Kale & Quinoa Salad with Green Goddess Dressing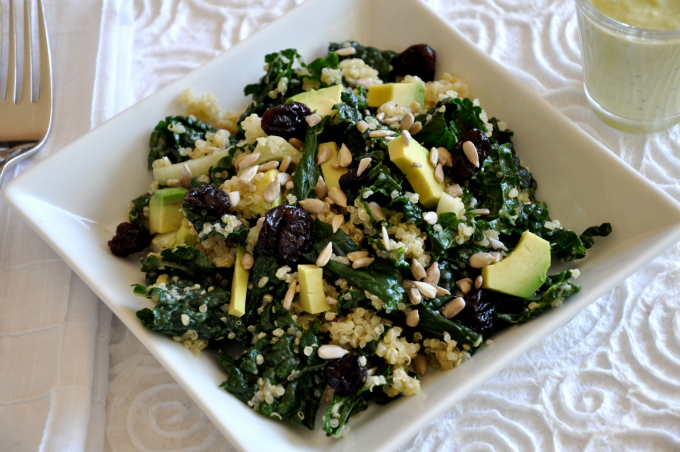 Recipe type:
Main or Side
7 scallions, rinsed and chopped (approximately ¼ cup)
5 cloves garlic, chopped
¼ teaspoon salt
3 tablespoons fresh lemon juice
4 tablespoons of extra virgin olive oil
2 tablespoons ripe avocado
1 teaspoon maple syrup, or to taste
fresh ground pepper to taste
½ bunch kale, destemmed, torn into pieces
1 cup of cooked quinoa
1 small bulb of fennel, thinly sliced
1 avocado, cut into small cubes
a handful of sunflower seeds or almond slices
⅓ cup dried cherries or cranberries, or more to taste
4 carrots, shredded (optional)
In a food processor puree the garlic, green onions, salt, lemon juice, olive oil, avocado, maple syrup and pepper until smooth. Taste, and adjust with more salt, maple syrup or lemon juice.
In a large bowl, combine the cleaned, chopped kale with about half the dressing using your hands to work the dressing into the kale. Add the quinoa, fennel, a pinch of salt and a little more dressing and toss again. Taste, and add the last of the dressing if needed. Personally, I love this salad with a lot of dressing. Add the avocados, nuts or seeds and dried cherries and give one last gentle toss.
Recipe by
Ordinary Vegan
at https://ordinaryvegan.net/greengoddess/