Vegan White Sauce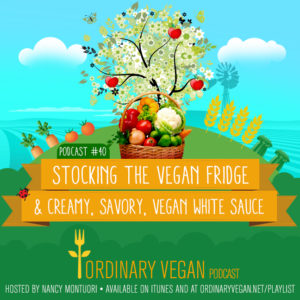 2 cups cashews, soaked 3-4 hours and strained
½ cup of vegetable broth for sautéing
1¼ cups vegetable broth for sauce
1 small onion, chopped
2-3 cloves garlic, chopped
½ cup dry white wine
2½ tablespoons of nutritional yeast
pinch of nutmeg (1/8 teaspoon)
1 teaspoon salt
Fresh Ground Black Pepper
Soak 2 cups of cashews in 5 cups of warm water for 3 to 4 hours to soften. Strain.
Heat ½ cup of vegetable broth over medium heat. Add the chopped onion and saute until soft and translucent adding more vegetable stock if sticking.
Add the chopped garlic and cook for another 2 minutes.
Transfer the cooked onions and garlic into a food processor or blender. Add the cashews, vegetable broth, white wine, nutritional yeast, nutmeg, pepper and salt.
Blend on high speed until smooth, adding more liquid if you want a thinner consistency.