Vegan Cauliflower Tacos with Crispy Coconut Crust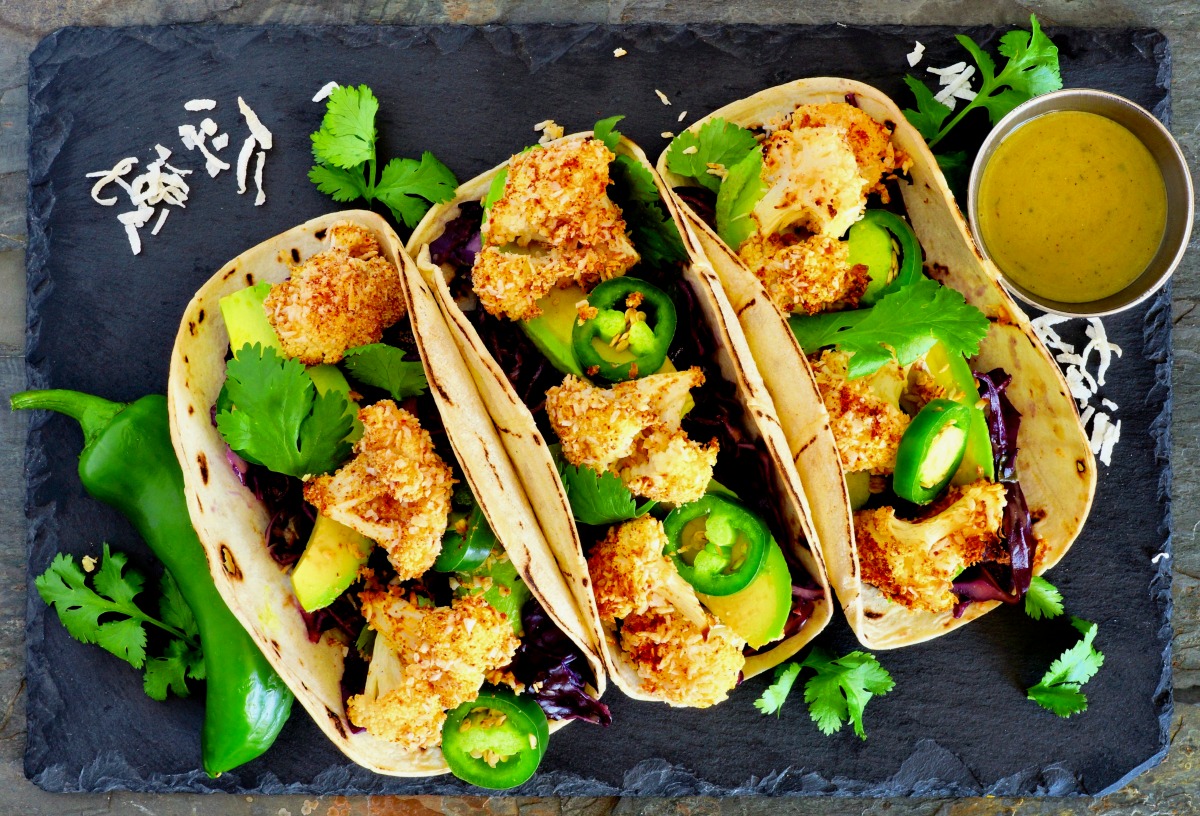 1 medium cauliflower, cut into florets
2 tablespoons organic cornstarch
¼ teaspoon baking soda
¼ teaspoon salt
1 teaspoon chipotle sauce in adobo (optional but adds another delicious layer of flavor)
¼ cup of unflavored, unsweetened plant milk (I like unflavored almond)
¼ cup Panko breadcrumbs (for gluten-free)
¼ cup unsweetened shredded coconut
¾ teaspoon paprika
¼ teaspoon cumin
¼ teaspoon turmeric (optional)
Light Sprinkling of cayenne pepper (optional - adds heat) about ⅛ teaspoon
½ teaspoon salt
Fresh ground black pepper
4 tortillas
Optional toppings - sliced avocado, sliced jalapeno peppers, shredded red cabbage & salsa
⅛ cup vegan mayonnaise
⅛ cup Dijon mustard
⅛ cup Maple Syrup
1 teaspoon yellow mustard
Preheat oven to 375 degrees F. Line a baking sheet with parchment paper.
In a medium bowl whisk together the plant milk, cornstarch, baking soda, chipotle sauce, and salt.
In a large bowl whisk together the breadcrumbs, shredded coconut, paprika, cumin, turmeric, salt, cayenne if using and some fresh ground black pepper.
Take a cauliflower floret and place it in the plant milk mixture, flipping it over to make sure all sides are covered.
Next, place that piece of cauliflower in the breadcrumb mixture, pressing it down and flipping it over to make sure it's coated evenly on both sides.
Transfer the breaded piece of cauliflower to the lined baking sheet. Repeat with all remaining florets of cauliflower.
Bake the breaded cauliflower for approximately 30 minutes or until they are golden brown and crispy. Keep an eye on them the last ten minutes so they don't burn.
Serve on a warm tortilla smeared with sweet mustard sauce. Toppings can include avocado, purple cabbage, sliced jalapeño and salsa.
Whisk together all the ingredients.
Recipe by
Ordinary Vegan
at https://ordinaryvegan.net/vegan-cauliflower-tacos/