Vegan Chickpea Salad Sandwich with Caesar Dressing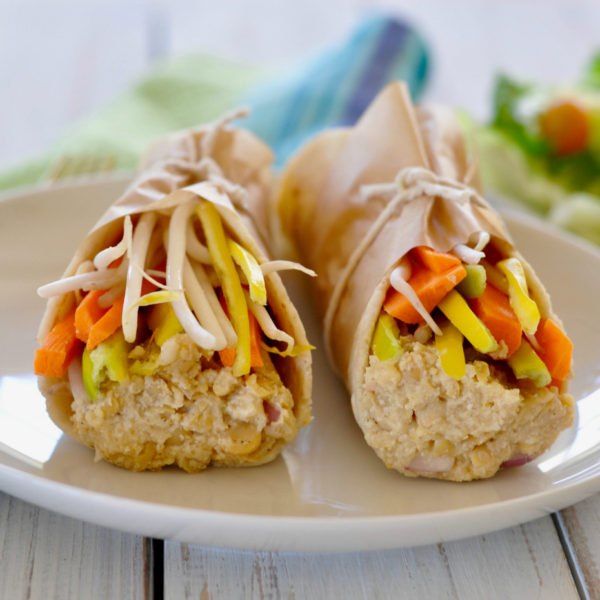 ¾ cup cashew nuts (preferably soaked over night in cold water or 10 minutes in boiling water)
¼ cup artichoke brine from a can (water not oil)
¼ cup plus 1 tablespoon fresh lemon juice
2 tablespoons Dijon mustard
2 tablespoons water (or more if needed)
1-2 garlic cloves, chopped
¼ teaspoon salt (or more to taste)
Fresh ground black pepper
1 15-ounce can of cooked chickpeas, drained and rinsed
2 large tortillas
Red or yellow peppers cut into matchsticks
Carrots, cut into matchsticks
Bean sprouts
Add all the ingredients to a food processor and process until smooth adding more water if necessary. It should have a mayonnaise or thicker consistency. Taste and adjust the seasonings. Remove from food processor.
In the same food processor (doesn't have to be washed) - Add the chickpeas and give them a few pulses to mash them.
Put the chickpeas mixture in a medium bowl and begin adding some of the dressing tasting as you go. You will probably have leftover dressing which you can use on a salad or some fresh sliced tomatoes. You don't want to overdress the chickpeas.
Divide the chickpea mixture between the tortillas. Top with carrots, peppers and sprouts. Roll up and serve.
Recipe by
Ordinary Vegan
at https://ordinaryvegan.net/vegan-chickpea-salad-sandwich/