Vegan Green Curry Noodle Soup with Broccolini, Mushrooms, Sugar Snap Peas & Tofu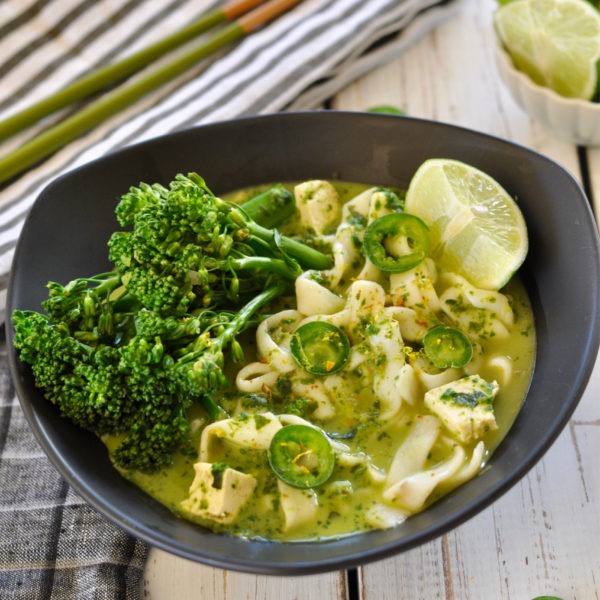 8 ounces of green Serrano chiles, chopped and seeds removed
1 large shallot, chopped
4 garlic cloves, chopped
2 lemongrass stalks, tough outer layers removed
1 3-inch piece ginger, grated
1 2-inch piece turmeric, grated (or ½ teaspoon ground)
Zest of one lime
1 teaspoon ground coriander
¾ teaspoon ground cumin
1½ tablespoons maple syrup
¾ teaspoon salt
Fresh ground black pepper
⅛ cup to ¼ cup of vegetable broth
½ cup vegetable broth for sautéing PLUS 3-4 cups for broth
1 shallot, diced
4-5 white or cremini mushrooms, sliced
1 cup light coconut milk
½ - ¾ cup chopped fresh basil leaves & some basil leaves for garnish
8 ounces of broccolini (trim off stems and slice any thick spears from top to bottom into a thinner spear)
¼ pound sugar snap peas or snow peas or combination of both
8-ounces of Shirataki Fettucini pre-cooked noodles (I like low carb, low calorie tofu fettuccine noodles) Or use your favorite noodles.
4-6 ounces of cubed extra firm tofu
Juice from one lime
Optional add ins: Water Chestnuts
Garnish Ideas: Fresh Basil, Lemon Wedges, Bean Sprouts, Thinly sliced green chiles or jalapeño, Lemon, Turmeric, Lemongrass Zest, Scallions
Finely grate bottom half of lemongrass into a food processor. Add chiles, shallot, garlic, ginger, turmeric, lime zest, coriander, cumin, maple syrup, salt, and ground black pepper. Process. Add small amounts of vegetable broth until you have a paste. It is ok if it is a little watery. Remove from food processor and set aside. Do not rinse out food processor.
Heat vegetable broth in a medium pot, and saute the shallot and sliced mushrooms until soft and translucent. Add 2-3 tablespoons of the green chili paste and saute for another minute.
Add 3 cups of the vegetable broth and bring it to a simmer.
Add the vegetables and cook until the broccoli is just tender and bright green. Don't overcook.
Meanwhile, in the same food processor, process the chopped basil and coconut milk.
Stir the coconut milk and tofu into the pot. Add the noodles and fresh lime juice. Simmer for another minute or two, garnish and serve with lime wedges.
Recipe by
Ordinary Vegan
at https://ordinaryvegan.net/vegan-green-curry/