Cauliflower Wellington with Mushroom Duxelles & Dijon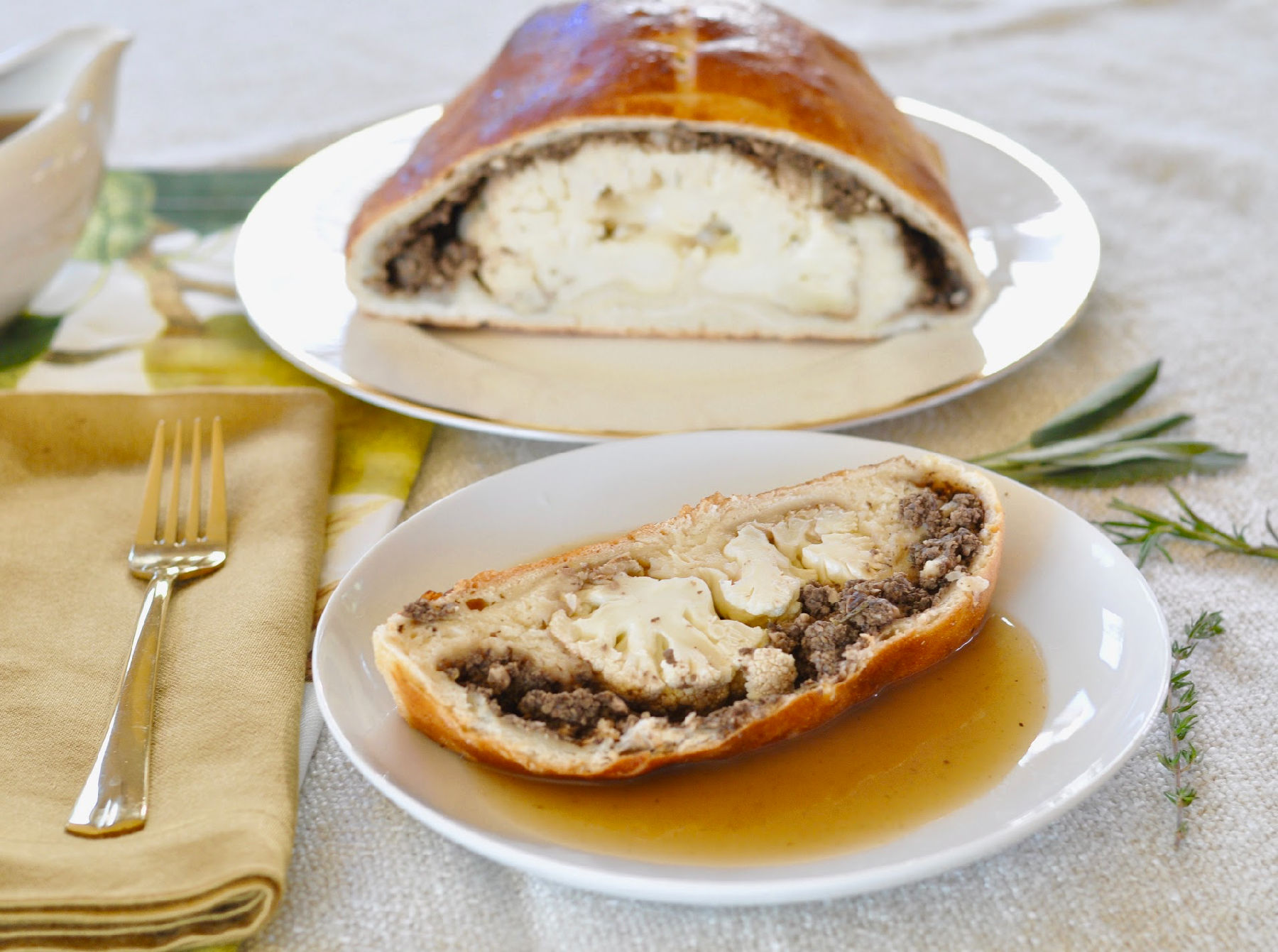 1 medium cauliflower
4 tablespoons of vegan butter
1 tablespoon of fresh chopped thyme
1 teaspoon of fresh chopped sage
1 17.3 ounce package vegan frozen thawed puff pastry or vegan dough
3 tablespoons Dijon mustard
½ teaspoon salt
Ground black pepper
12-15 large white or Cremini mushrooms or mixture of both, chopped
2 garlic cloves, chopped
½ cup walnuts, chopped
6 fresh chestnuts, cooked, peeled and chopped (or cooked peeled chestnuts from a jar)
1½ teaspoons of chopped fresh thyme
1 teaspoon chopped fresh sage
1 teaspoon chopped fresh rosemary
½ teaspoon salt
Fresh Ground black pepper
Bring a small saucepan of water to a boil. Add chestnuts and cook until soft, about 20 minutes. Drain and let cool slightly. Peel and chop chestnuts and set aside.
Place the mushrooms, garlic cloves, walnuts, and chestnuts into a food processor. Process until finely chopped. Add the herbs, salt and pepper and pulse a couple of more times.
Saute in a dry hot pan to intensify the flavors and remove the water from the mushrooms. This will take about 7-10 minutes. When all the water has been fried off, remove and refrigerate until assembly.
Preheat the oven to 400 degrees F. Line a baking sheet with parchment paper.
In a small saucepan, heat and melt the butter, thyme and sage. Set aside
Remove all the cauliflower leaves including the ones on the bottom of the cauliflower. Trim off the stem.
Please the cauliflower on the baking sheet, stem side down. Brush the cauliflower with the herb butter covering it completely. Sprinkle on the ½ teaspoon of salt, distributing it equally. Season with ground black pepper. Bake until the cauliflower turns a light golden brown, 25 to 30 minutes. Brush with remaining butter and let cool.
On a floured surface, place 1 puff pastry sheet on top of the other. Roll out the puff pastry or dough to a 14-inch by 14-inch round. Brush the dough with Dijon mustard. Spread the mushroom mixture over the dough leaving a 2-inch-wide border all the way around. Turn the cauliflower upside down on top of and in the middle of the vegan dough.
Fold the dough around the cauliflower so that the whole thing is enclosed. Turn the cauliflower right side up and place it back onto the prepared baking sheet. Sprinkle with ½ teaspoon salt and bake until the dough is cooked and a golden brown, 50-60 minutes. Let cool for 10-15 minutes before serving. Slice into wedges. Serve with vegan gravy.
Recipe by
Ordinary Vegan
at https://ordinaryvegan.net/cauliflower-wellington/