Vegan Beer Battered Cauliflower Tacos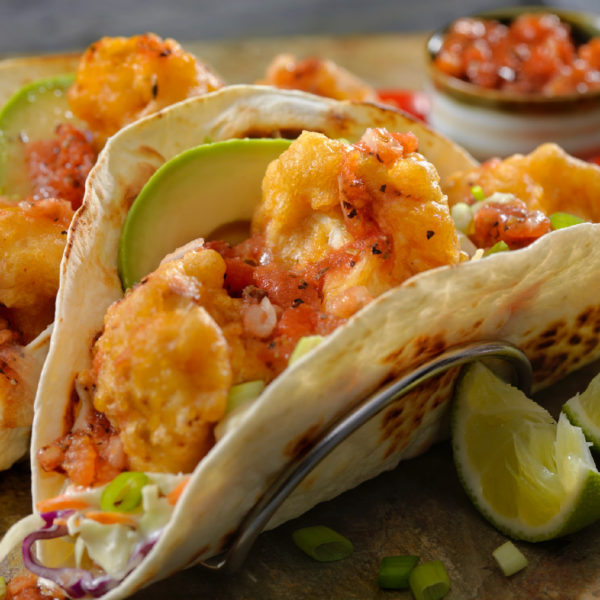 2 ounces of canned chipotle peppers
3 tablespoons of aquafaba liquid from cooked canned chickpeas (or 1 flax eggs)
1 cup of dark Mexican beer (Tecate or Modelo for example)
1 cup of all-purpose flour (or garbanzo bean or gluten-free)
1 tablespoon of cornstarch
1 teaspoon baking powder
½ teaspoon of salt
Fresh ground black pepper
1¼ cup breadcrumbs (if you want gluten-free use Panko)
½ teaspoon chili powder
¼ teaspoon paprika
light sprinkling cayenne pepper (optional)
½ teaspoon salt
Fresh ground black pepper
3 tablespoons of fresh chopped parsley (optional but it adds a nice brightness)
1 head of cauliflower, cut into medium florets
8 tortillas
Preheat oven to 450 degrees F
Puree the chipotles and aquafaba together in a small food processor. When well blended transfer to a bowl and whisk in the beer. In a separate mixing bowl combine the flour, cornstarch, baking powder, salt and fresh ground black pepper.
Add the beer mixture to the flour mixture whisking well to avoid clumps.
Set the batter aside while preparing the other ingredients.
Combine all the breadcrumb ingredients in a medium bowl
Dredge the cauliflower in the beer batter and tap off excess. Dip the cauliflower into the breadcrumbs and cover all over.
Place the cauliflower florets on a baking sheet lined in parchment paper.
Cook for 25-30 minutes or until soft and crispy.
Recipe by
Ordinary Vegan
at https://ordinaryvegan.net/vegan-beer-battered-cauliflower/