Indian Lentil Soup with Sweet Potatoes, Tomatoes & Ginger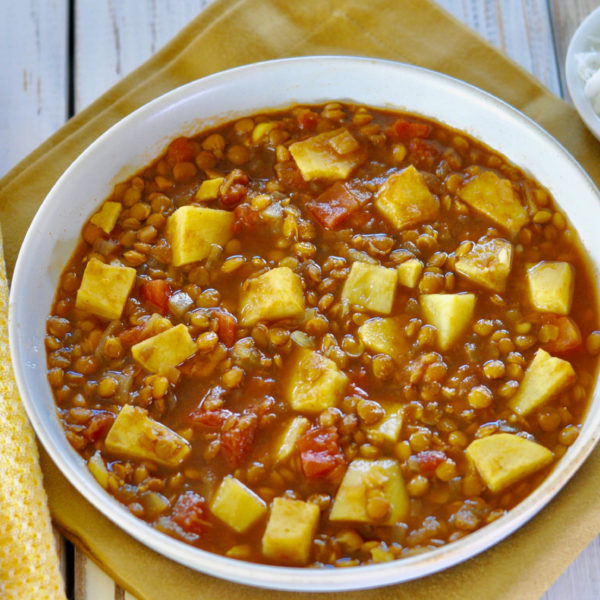 ½ cup vegetable broth for sauteing
1 cup chopped onion
2 garlic cloves, minced
1 tablespoon minced fresh ginger
1 red chili, chopped, seeds removed (optional if you want heat)
1 medium sweet potato, peeled and diced into bite-size pieces
1 cup lentils
2 teaspoons ground coriander
1 teaspoon ground cumin
1½ teaspoons turmeric
½ teaspoon salt
Fresh ground black pepper
1 cup of canned tomatoes
4 cups vegetable broth (or more if needed)
Unsweetened shredded coconut for serving (optional)
2-3 tablespoons chopped cilantro for serving (optional)
Heat the ½ cup of vegetable broth in a large saucepan over medium heat. Add the onion and saute until soft and translucent. Add the minced ginger, chili (if using), garlic and spices. Saute for another 1-2 minutes.
Add the sweet potatoes, lentils, tomatoes and 4 cups of vegetable broth. Raise the heat to a boil, then reduce to a simmer. Cook uncovered, stirring occasionally until the lentils and potatoes are soft. Approximately 20-25 minutes. If it becomes too thick, add more vegetable broth.
To serve, place in a serving bowl and sprinkle with chopped cilantro. Optional garnish is a sprinkle of the unsweetened shredded coconut.
You can also serve this over rice.
Recipe by
Ordinary Vegan
at https://ordinaryvegan.net/indian-lentil-soup/