Vegan Dumplings with High Protein Chickpea Flour Atop Vegetable Soup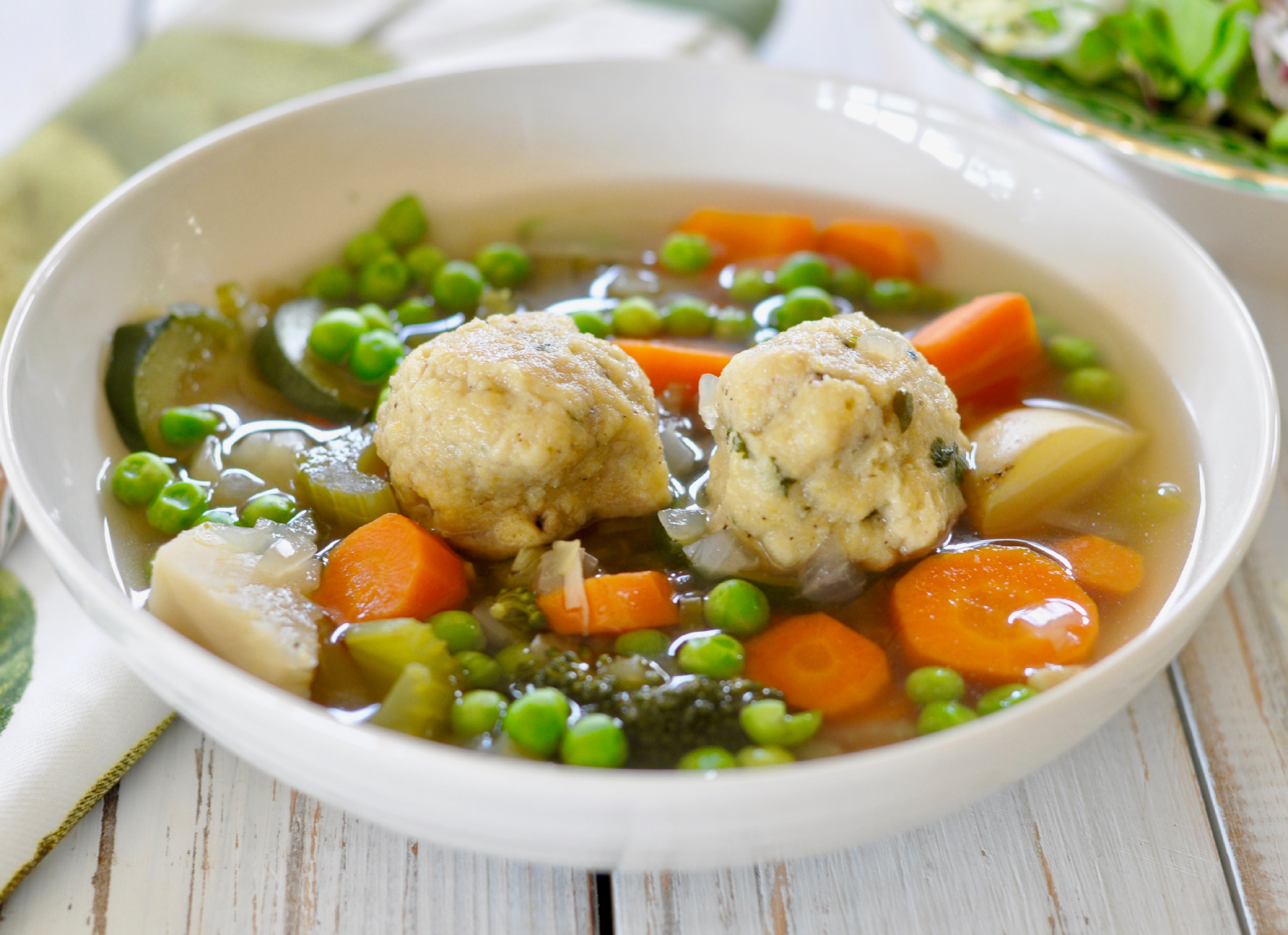 ½ cup vegetable broth for sautéing
4-6 cups vegetable broth for soup
2 celery stalks, chopped
1 red onion, chopped
4 garlic cloves, chopped
2 large carrots, diced
½ head Savoy cabbage, finely sliced
1 large waxy potato, peeled and cut into ½ inch cubes (if you are using red or yellow you can leave the skin on)
1 cup of frozen or fresh peas
2 cups of spinach, coarsely chopped
1 teaspoon salt
Fresh ground pepper
1 boquet garni - 4 sprigs of thyme, 1 bay leaf and a handful of parsley * see below
1 cup of Garbanzo bean flour (aka Chickpea flour)
½ cup Cornmeal
2 teaspoons baking powder
½ teaspoon salt
2-3 tablespoons vegan butter
⅔ cup unflavored, unsweetened, non-dairy milk
2 tablespoons minced fresh parsley
In a medium bowl, toss together the chickpea flour, cornmeal, baking powder and salt. With your fingertips, work the butter into the flour until the mixture is crumbly. Using a fork, stir in the milk until blended. Stir in the minced parsley and set aside.
Heat the ½ cup of vegetable broth in a 4-quart pot over medium-high heat. Add the onion and celery and cook, stirring, until soft, about 5 minutes adding more vegetable broth if sticking. Add the garlic and saute for another minute.
Add 4 cups of of vegetable broth, carrots, cabbage, potato, salt, pepper and bouquet garni. Bring the soup to a gentle simmer and cook for about 25 minutes. Add the spinach and peas. Remove the the boquet garni. Add more vegetable broth if needed and bring back to a high simmer.
Drop tablespoons of the dumpling batter in 16 clumps over the top of the soup. Reduce the heat to a low simmer, cover until the dumplings are cooked through, about 10 minutes. Try not to peek.
Ladle the soup into bowls and serve with 2 dumplings each.
*Spread out a small piece of cheesecloth and place the herbs in the middle. Bring the four corners of the cheesecloth together and tie them with kitchen string, forming a secure bundle with no gaps.
Recipe by
Ordinary Vegan
at https://ordinaryvegan.net/vegan-dumplings/