Green Pancakes with Lime Butter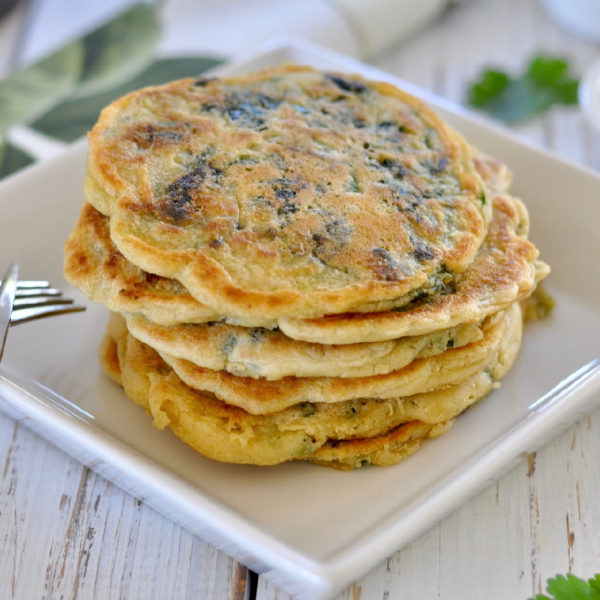 ½ lb or 8 cups spinach, washed, wrung out
¾ cup flour (all purpose or garbanzo bean flour)
1 tablespoon baking powder
4 tablespoons aqufaba liquid (brine from cooked chickpeas) or flax eggs*
2 tablespoons vegan butter, melted
½ tsp salt
1 teaspoon ground cumin
⅔ cup of unsweetened, unflavored non-dairy milk (I like almond)
6 medium green onions, finely sliced
2 mild green chiles, thinly sliced
2 tablespoons chopped cilantro
olive oil for frying
8 tbsp vegan butter softened at room temperature
grated zest of 1 lime
1½ tablespoons lime juice
¼ tsp salt
½ tsp ground black pepper
1 tablespoon of chopped cilantro
garlic clove, finely chopped
¼ teaspoon chili flakes
Wilt the spinach in a pan with a splash of water or steam 2 minutes until wilted not cooked. Drain and when cool, squeeze hard with a clean dish cloth to remove as much moisture as possible. Roughly chop and set aside.
Place the flour, baking powder, cumin, 3 tablespoons of aquafaba liquid (or flax eggs) melted butter, and non-dairy milk in a large mixing bowl and whisk until smooth.
Add the green onions, chiles, chopped cilantro and spinach and mix with a fork.
In a separate bowl whisk the remaining tablespoon of aquafaba to soft peaks and gently fold it into the batter.
Pour a small amount of olive oil into a heavy frying pan and place on medium-high heat. For each pancake, ladle 2 tablespoons of batter into the pan. You should get smallish pancakes, about 3 inches in diameter. Cook for about 2 minutes on each side, or until you get a deep golden-green color. Transfer to paper towels and keep warm. Continue making pancakes, adding oil to the pan as needed until the batter is used up.
To serve pile up three warm pancakes per person and place a slice of flavored butter on top if using. Or serve some mixed greens lightly dressed on top.
*If you are using flax eggs as an egg replacer - Omit the extra tablespoon that has been whisked.
and make one ground flax egg by whisking together 1 tablespoon ground flax with 3 tablespoons of water. Place in refrigerator for 10 minutes to thicken.
Put the butter in a medium bowl and mix with a wooden spoon until it turns soft and creamy. Stir in the rest of the ingredients. Chill until firm. *You can use the left over butter on baked sweet potatoes or freeze and use another time.
Recipe by
Ordinary Vegan
at https://ordinaryvegan.net/vegan-spinach-pancakes/