Baked Falafel Sandwich Wrap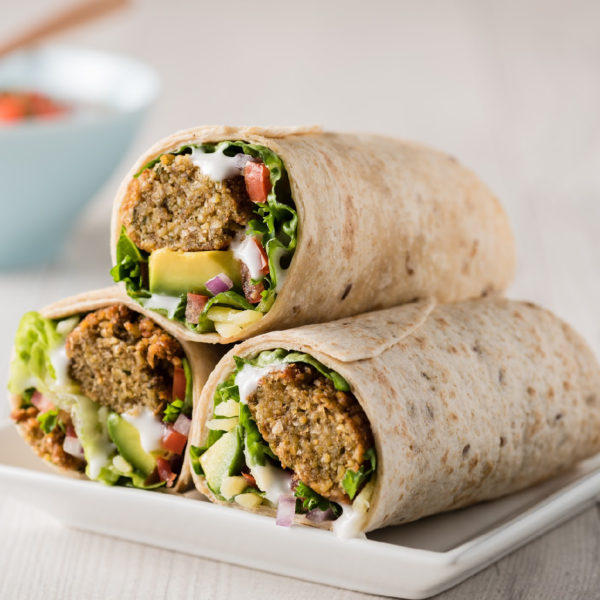 1 (15-ounce) can chickpeas, rinsed and drained (save the chickpea liquid)
2 cloves garlic, chopped
1 tablespoon of chickpea liquid (aquafaba)
¼ onion, diced
1 teaspoon ground coriander
1½ teaspoons ground cumin
⅛ teaspoon cayenne pepper
2 tablespoons chopped fresh parsley
3 tablespoon chopped fresh cilantro
½ teaspoon baking soda
1 tablespoon of freshly squeezed lemon juice
1 teaspoon salt
Fresh Ground black pepper
1-2 teaspoons of Extra-Virgin olive-oil for browning
1 tablespoon hot water
¼ cup tahini (sesame seed paste)
2 tablespoons minced shallot
3-4 tablespoons lemon juice
2 garlic cloves, chopped
2-3 tablespoons chopped fresh parsley
salt and ground black pepper to taste
Pre-heat the oven to 350 degrees F
Put the chickpeas in a large bowl or food processor. Process or mash with a potato masher to break up the chickpeas.
Add the onion, garlic, aquafaba, coriander, cumin, cayenne pepper, baking soda, salt, pepper, parsley, cilantro and lemon juice. Pulse or mash to to make a thick paste.
Line a cookie sheet with parchment paper and spray or brush with a little olive oil to help them brown. You could also brush the tops of the patties with olive oil.
Scoop up golf ball size balls of the mixture and flatten them into 12 patties. I like to form them as flat as I can so the patty surface touches the pan as much as possible for browning.
Bake until the patties are slightly puffed and deep brown, about 20 minutes, turning them over halfway through cooking.
Place the tahini, water, garlic, lemon juice, shallots into a bowl or food processor. Blend well and adding additional water and/or lemon juice to create a sauce with a smooth consistency. Add the parsley and combine. The amount of liquid you need depends upon how thick you want your sauce to be. This can be refrigerated up to a week.
Assemble your wrap. Spread lemon tahini sauce on a tortilla. Add your favorite sandwich enhancers. I like cucumber slices, red onion, avocado and crunchy lettuce or cabbage. You can also serve on small rolls,or pita pockets.
Recipe by
Ordinary Vegan
at https://ordinaryvegan.net/vegan-falafel-baked/