Vegan Farro Pasta Salad with Orzo, Almonds and Mint with Lemon Dressing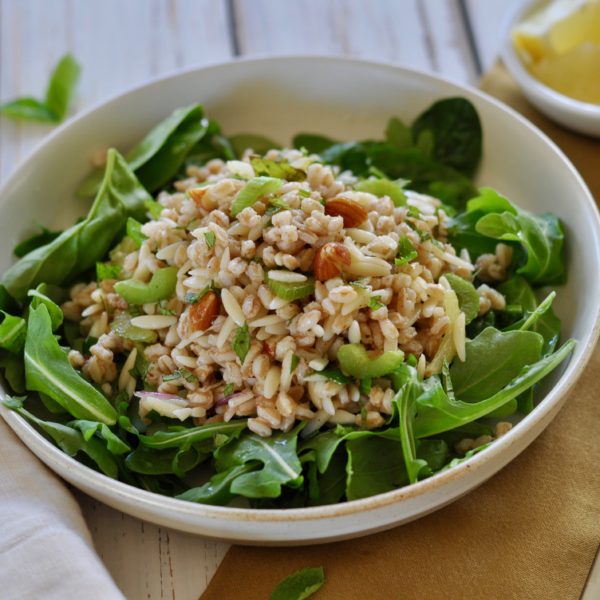 Recipe type:
Side or Main
Cuisine:
American / Italian
1 cup of farro
2 bay leaves
1 cup orzo
¾ cup thinly sliced onions
¾ cup thinly sliced celery
¾ cup sliced almonds
¾ cup diced dried apricots (optional but adds a sweet element)
½ cup chopped mint leaves
½ cup chopped parsley leaves
Ground black pepper
Juice from one lemon
(options - ½ cup sun-dried tomatoes)
Juice from two large lemons
½ teaspoon salt
½ teaspoon ground black pepper
¼ teaspoon red pepper flakes (or more to taste)
½ cup extra virgin olive oil plus 2½ tablespoons
Cook the farro according to directions with 2 bay leaves being careful not to overcook. You want your farro to have a little bite. Remove the bay leaves.
Cook the orzo according to directions being careful not to overcook.
Whisk together the dressing ingredients. Set aside.
When the orzo and farro have cooled, combine together.
Add the remaining ingredients. Start tossing with the dressing, a little at a time until dressed to your liking. Squeeze the fresh juice of a lemon on top and lightly toss.
Taste and add more ingredients if needed.
Serve over fresh spinach leaves or arugula that has been lightly dressed with fresh lemon juice, salt, and ground black pepper.
Garnish with lemon wedges.
Recipe by
Ordinary Vegan
at https://ordinaryvegan.net/vegan-farro-pasta-salad/