Ordinary Vegan Golden Pumpkin Bread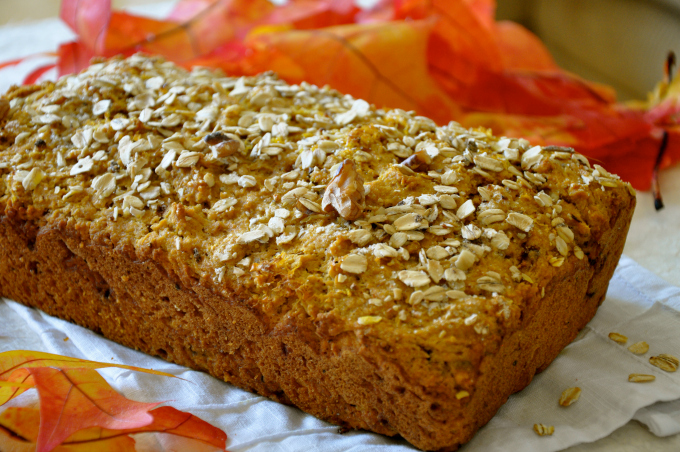 Recipe type:
Breakfast or snack
2 cups white whole-wheat flour
¾ tsp salt
1 tablespoon plus one teaspoon baking powder
¾ teaspoon cinnamon
¼ teaspoon ginger powder
⅛ teaspoon nutmeg
1 cup almond milk
2 tablespoons ground flax seed
1 tsp vanilla extract
1½ cups canned pumpkin puree
⅓ cup coconut oil (microwaved for 30 seconds to form a liquid)
¾ tsp apple cider vinegar
½ cup maple syrup
½ tsp orange zest
½ cup walnuts
2 tablespoons rolled oats
1 tablespoon sugar
½ tsp or more fresh orange zest
Preheat oven to 415 degrees F
Grease a standard (9x5) loaf pan well using coconut oil.
Combine the 2 tablespoons of ground flax seed with 6 tablespoons of water. Whisk together and put in refrigerator for ten minutes to thicken.
Combine all your dry ingredients in a large mixing bowl.
Combine all wet ingredients together (including flax eggs) in a large mixing bowl. Make sure you soften your coconut oil in the microwave for 30 seconds to form a liquid.
Fold the wet mixture into the dry mixture and combine until all the dry ingredients are absorbed.
Pour batter into prepared loaf pan.
Combine sugar and oats and sprinkle on top. Top with orange zest.
Bake at 415 degrees for 20 minutes. Reduce heat to 395 degrees and bake for an additional 20-25 minutes. Check to see if your bread is done by using a toothpick in the center and when removed make sure it is dry.
Cool for 30 minutes before removing from pan.
Recipe by
Ordinary Vegan
at https://ordinaryvegan.net/pumpkinbread/