Roasted Sweet Potatoes, Parsnips & Tomatoes with Caper Vinaigrette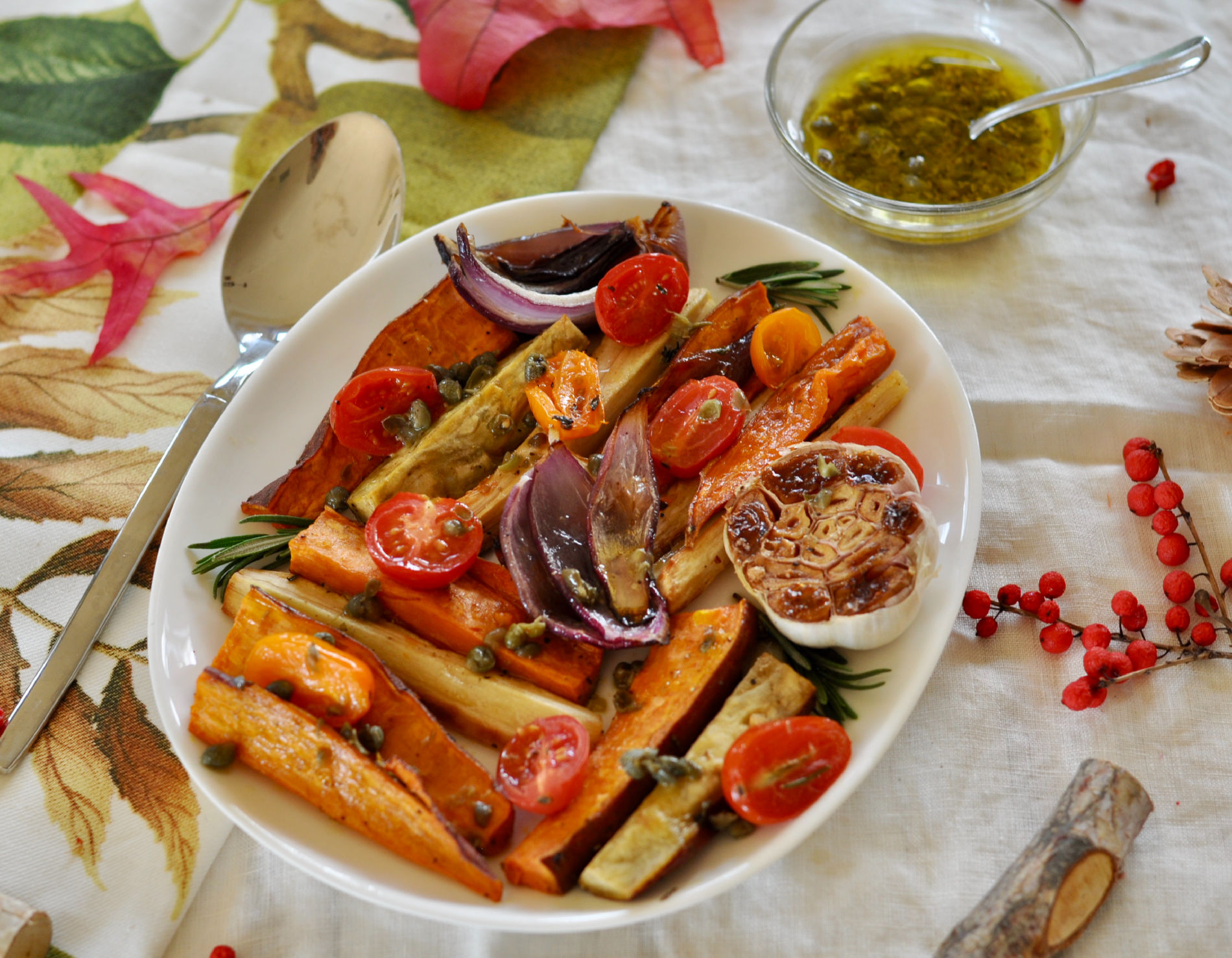 1 tablespoon olive oil
1 teaspoon salt
Fresh ground black pepper
2 medium sweet potatoes
4 parsnips
4 medium red onions
4 thyme sprigs
2 rosemary sprigs
1 head of garlic, halved horizontally
30 cherry tomatoes, halved
2 tablespoons lemon juice
4 tablespoons capers, chopped
½ tablespoon maple syrup
½ teaspoon dijon mustard
2 tablespoons olive oil
½ teaspoon salt
Fresh ground black pepper to taste
Pre-heat the oven to 375 degrees F.
Peel and cut parsnips into 2 inch slices. Peel the onions and cut each into 6-inch wedges.
Place the parsnips, onions, thyme, rosemary, garlic, 1 teaspoon salt and fresh ground black pepper in a large bowl. Drizzle with ½ tablespoon of oil and mix well. Spread out in a large roasting pan or baking sheet lined in parchment paper. Roast for 20 minutes.
Meanwhile, trim both ends of the sweet potatoes. Cut them (in their skins) into 6 wedges each. Add the potatoes to the bowl and drizzle with ½ tablespoon of olive oil. Add the sweet potatoes to the pan with the parsnips and roast for another 40 to 50 minutes.
When all the vegetables are cooked, and have a golden color, stir in the halved tomatoes and roast for another 10 minutes.
Prepare the vinaigrette by whisking together the lemon juice, capers, maple syrup, mustard, 2 tablespoons of olive oil , ½ teaspoon salt and a little fresh ground black pepper.
Pour the dressing over the roasted vegetables as soon as you take them out of the oven. Stir well, taste and adjust seasoning. Serve.
Recipe by
Ordinary Vegan
at https://ordinaryvegan.net/roasted-sweet-potatoes/