Vegan Blueberry Banana Bread Oil Free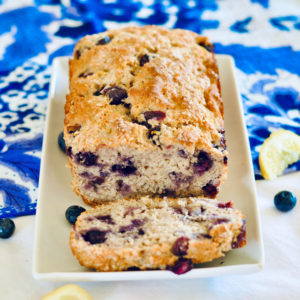 ½ cup unsweetened, unflavored almond milk (or plant-based milk of your choice)
2 tablespoons lemon juice
1 teaspoon real vanilla extract
1 cup ripe chopped banana
⅓ cup vegan yogurt (plain or vanilla)
⅓ cup + 2 tablespoons pure maple syrup
1⅓ cup fresh or frozen defrosted blueberries
2 cups all-purpose flour
2 teaspoons baking powder
¼ teaspoon baking soda
1 teaspoon cinnamon
¼ teaspoon salt
1 teaspoon sugar
1 teaspoon lemon zest
Preheat the oven to 375 degrees F. Lightly grease a 9x5 loaf pan.
In a small bowl combine the sugar and lemon zest.
Add the plant milk and lemon juice to a food processor. Let sit for 10 minutes to create a buttermilk.
Next add the yogurt, maple syrup, banana and vanilla extract to the processor and process until combined.
Sift together the dry ingredients into a large bowl.Stir the wet mixture into the dry ingredients. Add the blueberries. Stop stirring when here are no flour patches.
Spoon the batter into the prepared loaf pan and spread out evenly. Sprinkle on the topping.
Bake uncovered for 55-60 minutes or until a toothpick inserted in the center comes out clean.
Place the loaf pan on a cooling rack for 30 minutes. Slice the loaf once cooled.
The loaf will keep in the fridge tightly wrapped for 3 to 4 days, or slices can be individually frozen for up to 6 weeks.
Recipe by
Ordinary Vegan
at https://ordinaryvegan.net/vegan-blueberry-banana-bread/