Vegan Stuffed Cabbage Rolls with Brown Rice and Nuts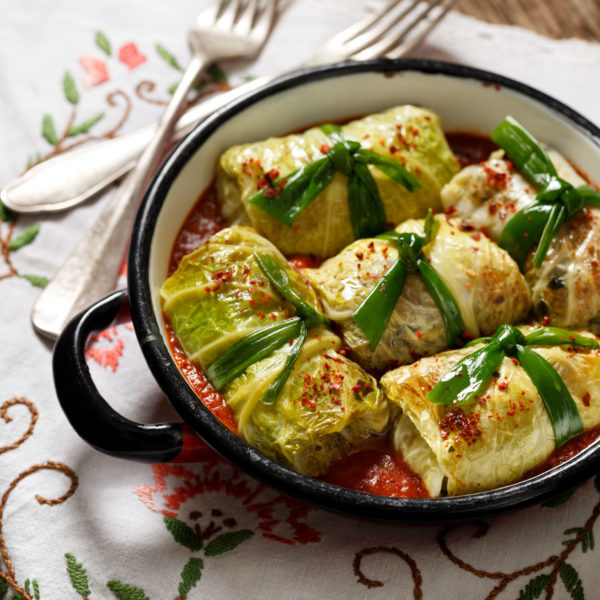 2½ cups cooked brown rice
1 large cabbage, core removed
⅓ cup vegetable broth
½ cup chopped shallots
½ cup chopped celery
2 garlic cloves chopped
½ cup chopped walnuts
¼ cup fresh chopped basil
¼ cup fresh chopped mint
½ teaspoon salt
Fresh ground black pepper
3 cups crushed tomatoes
3 tablespoons brown sugar
½ teaspoon red pepper flakes
paprika for garnish
Bring a large pot of salted water to boil. Carefully peel 12 large leaves from cabbage.
Blanch leaves in the boiling water for 2 minutes. Remove immediately and spread out on towels so they dry.
In a large saute pan, heat ⅓ cup of vegetable broth. Saute the shallots and celery until soft and translucent about 4-5 minutes. Add the garlic and walnuts and saute a minute more. Add the salt and fresh ground black pepper. Add the cooked rice to the saute pan and combine. Add the fresh herbs. Turn off the heat. Taste for seasonings.
Combine 3 cups of crushed tomatoes with brown sugar and red pepper flakes. Making sure the sugar is dissolved. Add two cups of sauce to the bottom of a 9 by 9 baking dish.
Preheat oven to 325 degrees F.
Lay your cabbage leaf on a cutting board. Form some of the filling mixture, about ¼ to ⅓ cup on to the leaf. Wrap the cabbage leave around it making a little package so the filling can't fall out. Pin at the top with a toothpick. Add it to the baking dish.
Repeat with remaining leaves and mixture.
Spoon over some of the leftover tomato sauce. Cover and bake for 25 minutes. Sprinkle with a little paprika if desired.
Recipe by
Ordinary Vegan
at https://ordinaryvegan.net/vegan-stuffed-cabbage-rolls/