Cauliflower & White Bean Mash with Grilled Portobello Gravy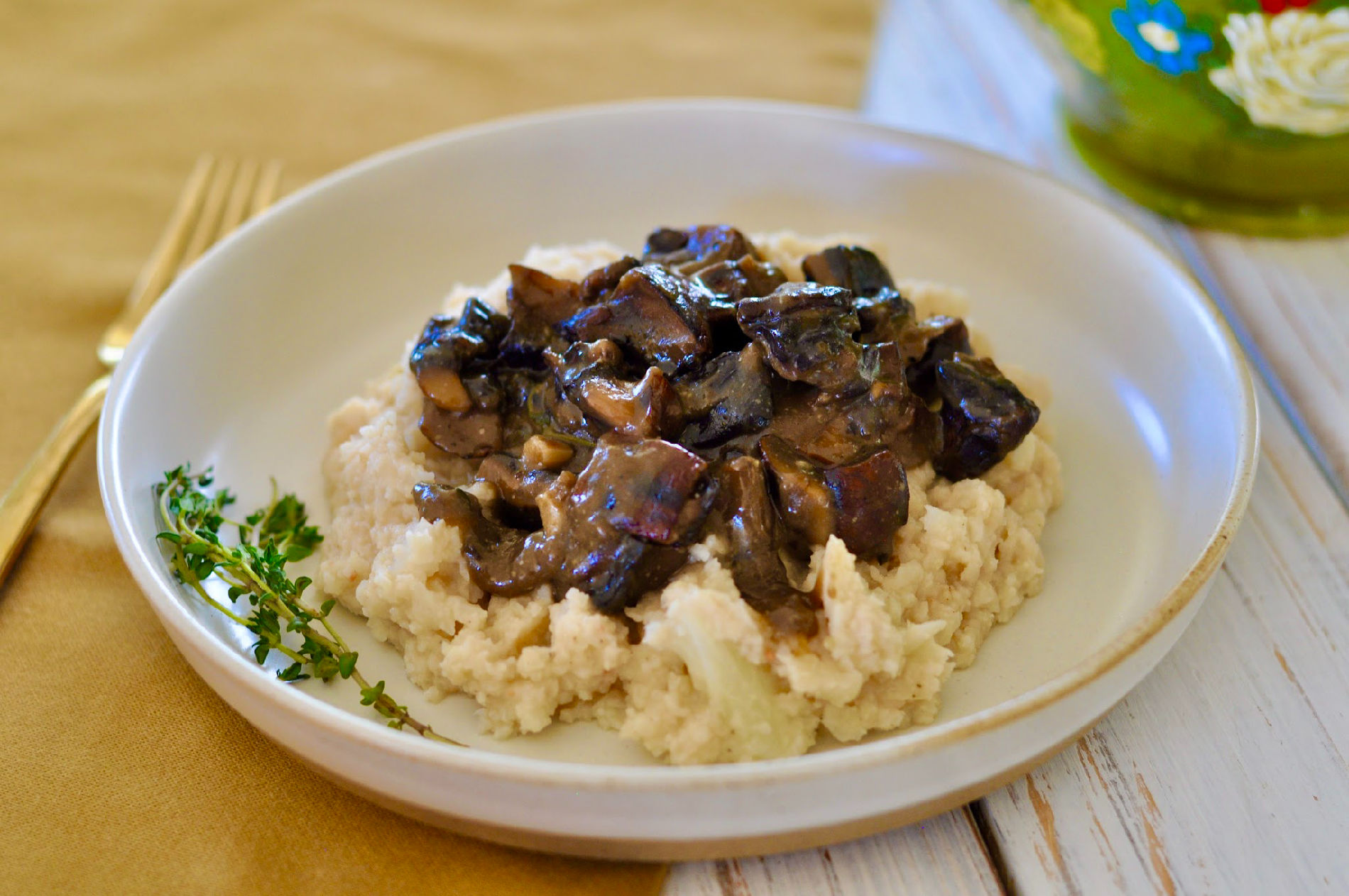 4 cups chopped cauliflower
1 15-ounce can cooked Cannellini Beans, drained and rinsed
2 garlic cloves, chopped
¼ unsweetened almond milk (or more)
¼ teaspoon salt
Fresh ground black pepper
4 large Portobello mushrooms, stems and gills removed and wiped clean
2 garlic cloves, chopped
2 teaspoons fresh thyme (or ¾ teaspoon dried)
1½ tablespoons soy sauce
⅓ cup vegetable broth for sautéing plus 1 cup for gravy
1 tablespoon cornstarch
1 tablespoon white miso
Place the chopped cauliflower into a medium saucepan. Cover with water. Place on stove over medium heat. Bring to a boil and then simmer until the cauliflower is soft. Approximately 15 minutes.
Drain the cauliflower and place in food processor. Add the cooked beans, garlic, plant milk, salt and fresh ground pepper. Process until you have creamy texture, adding more plant milk if necessary. I like mine a little on the chunky side. Set aside and keep warm.
Heat a grill or a heavy bottom pan over medium heat. Brush the pan and mushroom caps with oil. When hot, place the mushrooms on the pan, partially cover and cook for 4 to 5 minutes on each side. Transfer to a cutting board. Cut into large bite sized pieces.
In a medium saute pan, over medium heat, add ⅓ cup vegetable broth. Add the garlic, cook for about 1 minute.
Add the chopped portobello mushrooms, thyme and soy sauce.
Whisk cornstarch, vegetable broth and miso in a small bowl. Stir into the sauce and simmer, stirring often, until slightly thickened, about 10 minutes. Add more vegetable broth if it is too thick. Taste and season with ground black pepper. Serve over cauliflower white bean mash.
Recipe by
Ordinary Vegan
at https://ordinaryvegan.net/mashed-cauliflower/