Bread Stuffing with Tempeh Bacon, Mushrooms, Cranberries and Jalapeno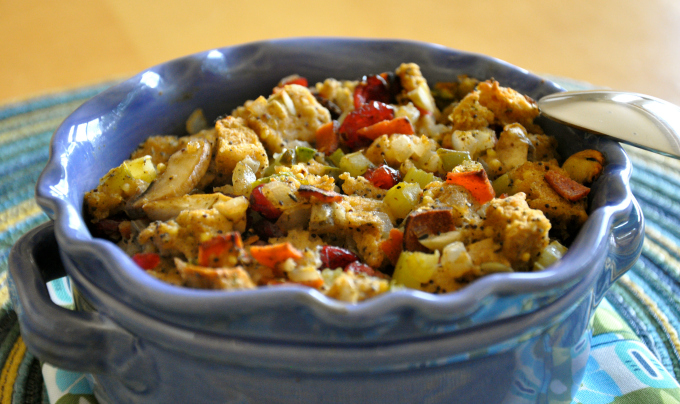 1 package of tempeh bacon, 8 ounces cubed (I used non-gmo Lightlife Smart Bacon and it worked well)
6-7 cups of diced bread cubes
3 Tablespoons of vegan butter
1¼ cups chopped onion (yellow or white)
1¼ cups chopped celery
1½ cups sliced white mushrooms (or use shiitake)
1 large jalapeno, diced (remove seeds)
½ cup parsley, finely chopped
¼ cup dried cranberries (add more if you like)
¼ cup pistachios (optional)
2 tsp poultry seasoning
1 tsp dried thyme
¼ tsp cumin powder
1 tsp apple cider vinegar
1 tsp maple syrup
1¼ cups veggie broth
¼ tsp black pepper
½ tsp salt
Preheat oven to 375 degrees F.
In a large non-stick skillet, cook vegan bacon until crispy. Set aside
In the same skillet. Heat the vegan butter over medium heat. Add onion, celery, mushrooms, and jalapeno. Cook until vegetables are semi-soft, about 7-10 minutes. Add the thyme, poultry seasoning, cumin, cider vinegar, maple syrup, salt and pepper and stir for another minute. Stir in the vegan bacon.
In a large bowl, combine the cubed bread and onion mixture.
Add the cranberries, parsley and pistachios.
Slowly start adding vegetable broth mixing gently until all the bread cubes are well coated with liquid but not mushy.
Pour stuffing into a greased 9 x 13 pan. Bake covered at 375 degrees F for about 20-25 minutes, or until the stuffing is lightly browned and a little crisp on top. Remove from the oven and serve warm.
Recipe by
Ordinary Vegan
at https://ordinaryvegan.net/veganbreadstuffing/