Velvety Red Lentil Soup with Cherry Tomatoes & Shredded Coconut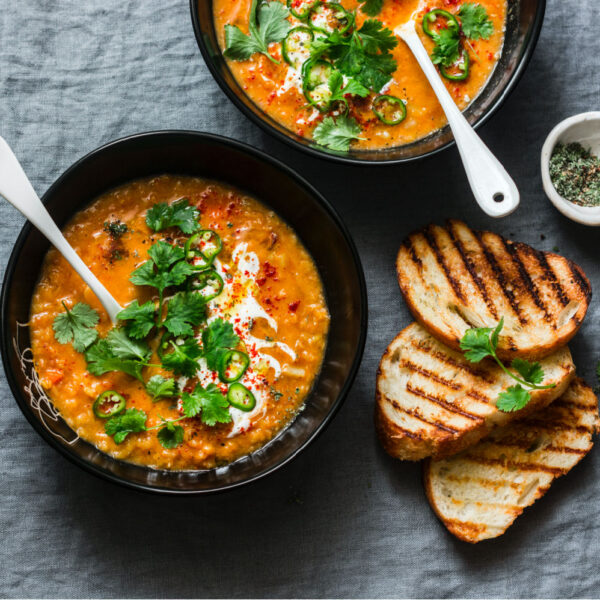 2 cups red lentils, rinsed and drained
1 bay leaf
1 teaspoon salt
Fresh ground black pepper
2 teaspoons olive oil
½ cup - ¾ cup vegetable broth
1 teaspoon cumin seeds
1 teaspoon mustard seeds
1 cup chopped onion
1½ tablespoons minced ginger
2 garlic cloves, chopped
2½ tablespoons shredded unsweetened coconut
1 cup cherry tomatoes, halved
¾ teaspoon curry powder
¼ teaspoon red chili flakes (optional for heat)
½ cup chopped cilantro
juice of 1 lemon
In a medium saucepan, combine 2 cups of lentils with 4 cups of water. Add the bay leaf. Bring to a boil over medium heat. Skim any scum. Lower the heat, cover the pot with a lid and gently simmer until the lentils are tender, and almost falling apart. About 20 minutes. Add 1 teaspoon salt and little ground black pepper. Set aside.
In large saute pan heat the teaspoon of oil of medium high heat. Add the cumin and mustard seeds. Cook for approximately 1-2 minutes or until the seeds pop.
Add the onion. Add some vegetable broth if sticking. Cook until soft and translucent about 3 minutes. Add the coconut and stir until the coconut is golden brown.
Add the garlic, ginger, curry powder, and tomatoes. Cook for another 5 minutes until the tomatoes start to wilt and soften.
Add the tomato mixture to the lentils. Combine.
With an immersion blender pulverize the lentils so that the whole mixture is roughly blended, but not liquified. Reheat adding more vegetable broth if too thick.
When hot remove the soup from the heat and add the lemon juice and cilantro. Taste and season with salt and fresh ground pepper. Stir and serve.
Garnish options: Thinly sliced green or red Cayenne chili peppers and a swizzle of coconut cream.
Recipe by
Ordinary Vegan
at https://ordinaryvegan.net/velvety-red-lentil-soup/