Brussels Sprouts & Chestnuts in Mustard Sauce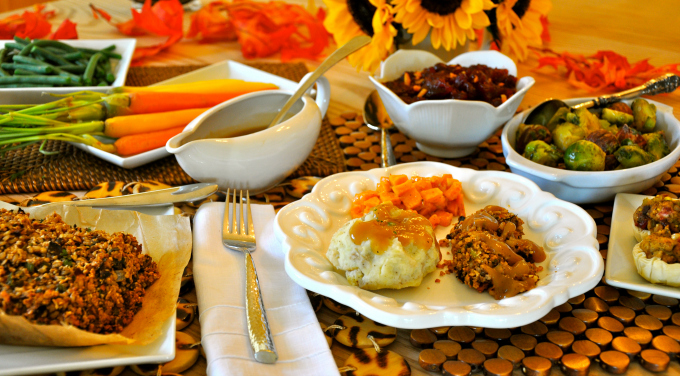 2 lemons, juiced
¾ cup extra-virgin olive oil (start with ½ cup and add more if needed)
3 tablespoons Dijon mustard
1 teaspoon whole grain mustard
2 teaspoons fresh thyme leaves, chopped
1 teaspoon salt
½ teaspoon freshly ground pepper
½ pound fresh chestnuts
20 ounces fresh Brussels Sprouts, trimmed
8 tablespoons vegan butter (use less if you desire) Sometimes I add some veggie broth instead of butter
With a paring knife, cut an X in the flat side of each chesnut shell. In a sucepan, cover chestnuts with water and bring to boil. Reduce heat and simmer until tender, about 15 minutes. Drain. When cool enough to handle, peel chestnuts
Add cleaned brussels sprouts to a large pot of boiling salted water. Cook until tender but a tiny bit firm, about 5-6 minutes. Drain and run under cold water.
In a large skillet, melt butter over medium heat. Add peeled chestnuts and sprouts. Season with salt and pepper to taste. Cook, turning occasionally until vegetables are browned, 10-15 minutes. With a slotted spoon, remove vegetables to a large serving platter.
Whisk dressing - juice from lemons, dijon mustard, grain mustard, olive oil, thyme, salt and pepper. Pour a small amount over vegetables. Add more slowly being careful not to overdress. It should take about a ¼ cup of dressing.
Recipe by
Ordinary Vegan
at https://ordinaryvegan.net/veganthanksgiving/