High Protein Gluten-Free Quinoa, Bean and Corn Chili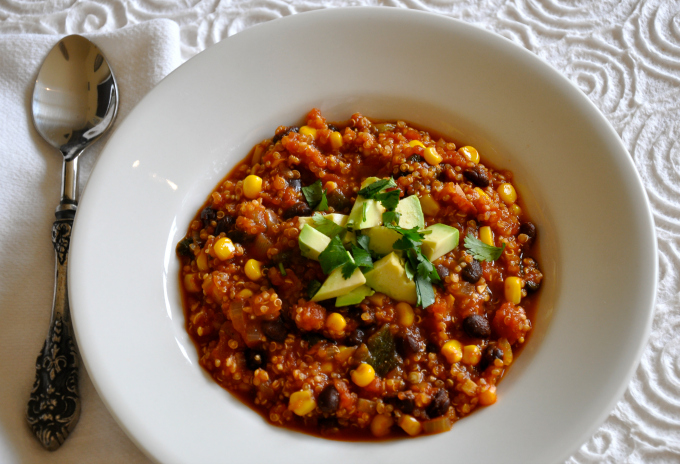 1 teaspoon olive oil
1 small onion, chopped
2 cloves of garlic, minced
1 cup uncooked quinoa
26 ounce carton of crushed tomatoes
8 ounce carton of tomato sauce
1 cup water (+ more as needed)
1 15 ounce carton of organic black beans, rinsed well to remove starch
1½ cups of frozen organic corn kernels
2 roasted, peeled poblano peppers, chopped *
½ teaspoon smoked paprika
2 teaspoons chili powder
light sprinkle of cayenne pepper
½ teaspoon salt (or more to taste)
¼ teaspoon fresh ground black pepper (or more to taste)
Saute chopped onions in olive oil in a medium saucepan. When they become translucent (about 3-5 minutes) add garlic, paprika, chili powder, cayenne, salt and pepper and cook for another 2 minutes.
Add crushed tomatoes, tomato sauce and water to onion mixture and bring to boil.
Add quinoa, bring to boil and than simmer on low for 30 minutes. Adding more water if needed.
Taste and season with more salt, pepper, chili powder if needed.
Add corn, black beans and chopped poblano. Bring to boil and simmer on low heat and cook for another 10 minutes. Keep adding more tomato sauce or water if needed to thin it out.
Serve in large bowls and top with diced avocado and fresh cilantro.
Recipe by
Ordinary Vegan
at https://ordinaryvegan.net/quinoachili/