Chinese Fried Cauliflower & Brown Rice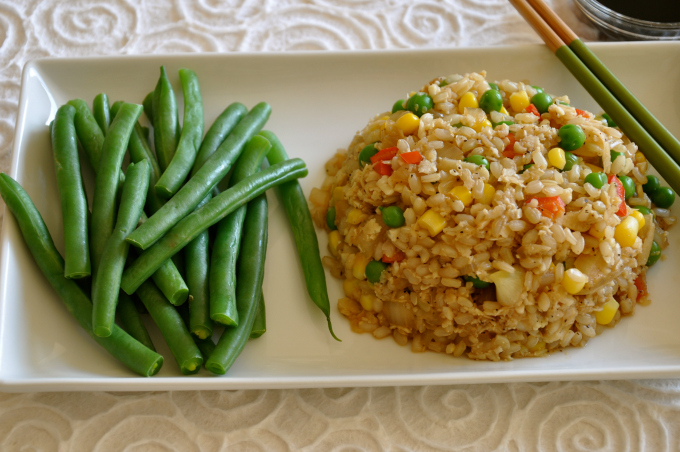 1 small head of cauliflower
½ cup brown rice
½ cup frozen peas, thawed (or fresh)
½ cup frozen organic corn, thawed (or fresh)
1 small white onion, chopped or half of large onion, chopped
2 cloves of garlic, chopped
1 Fresno chili, chopped (optional)
2-3 tablespoons of soy sauce (to taste)
¼ cup vegetable broth for sautéing
couple drops of sesame oil (optional)
salt and pepper to taste
Rinse brown rice and add to one cup of water. Bring to boil and simmer for approximately 20 minutes until all the water is absorbed and rice is cooked. Keeping a careful eye on it.
Remove outer leaves of cauliflower. Soak and rinse cauliflower. Drain and dry. Grate the head of cauliflower over the course side of a large grater. This should yield about 2½ cups of rice like cauliflower.
Heat the vegetable broth in a large saute pan. Add the onions and fresno chili and cook for about 3 minutes. Add the garlic and cook for another 1-2 minutes until the onion is soft and translucent. Adding more vegetable broth if sticking.
Add the riced cauliflower and soy sauce and cook for three minutes. Add the cooked brown rice, corn, peas and sesame oil and cook for another 2 or 3 minutes.
Salt and pepper to taste. Serve with a leafy green or green beans.
Recipe by
Ordinary Vegan
at https://ordinaryvegan.net/cauliflowerrice/