Ordinary Vegan Beef Stew with Red Wine and Root Vegetables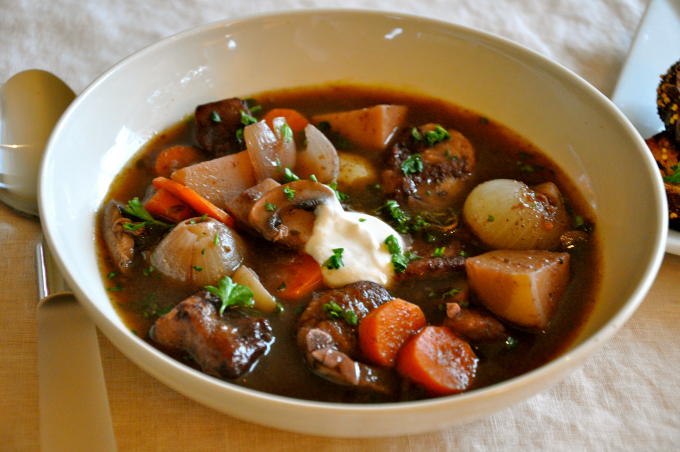 1½ teaspoons extra-virgin olive oil
2 teaspoons vegan butter
¼ cup flour
1 8 ounce package of cubed seitan
¼ teaspoon salt
¼ teaspoon ground black pepper
2 cups of good quality dry red wine
3 garlic cloves, minced
5 fresh thyme sprigs
½ orange, zest removed in 3 (1-inch strips)
¼ teaspoon ground cloves
2 bay leaves
4 cups vegetable broth
4-5 small new potatoes, cut into quarters
2 carrots, sliced
2 cups frozen pearl onions
8 ounces white mushrooms, cut in half
Fresh parsley, chopped, for garnish
Horseradish Sour cream, for garnish (recipe below)
Preheat a large Dutch oven over medium-high heat with the oil and butter.
While the pan is heating, in a bowl toss the cubed seitan with the flour, seasoned with some salt and pepper. Shake off the excess flour and add the seitan cubes in a single layer to the Dutch oven. Brown the cubes on all sides. Once browned, remove the meat and reserve.
Add the wine to the pan and bring up to a simmer. Once the wine is bubbling, add the seitan, thyme, garlic, orange zest, ground cloves, ¼ tsp ground pepper and ¼ tsp salt.
Bring the mixture to a boil and then reduce the heat to a simmer and cook uncovered until the liquids start to thicken and reduce, about 10 minutes.
Add the veggie stock, potatoes, carrots, onions and mushrooms, along with a pinch of sugar and turn up the heat until bubbling. Lower the heat and simmer, uncovered for about 30 minutes or more, until the vegetables are tender.
Remove thyme sprigs and bay leaves, taste and adjust seasonings.
To serve, place the stew in a soup bowl, garnish with chopped parsley and add a dollop of horseradish sour cream. Serve with crusty bread to mop up the juices.
*I like to stir my horseradish sour cream into the soup.
Recipe by
Ordinary Vegan
at https://ordinaryvegan.net/veganbeefstew/