Sun-Dried Tomato Chickpea Sandwich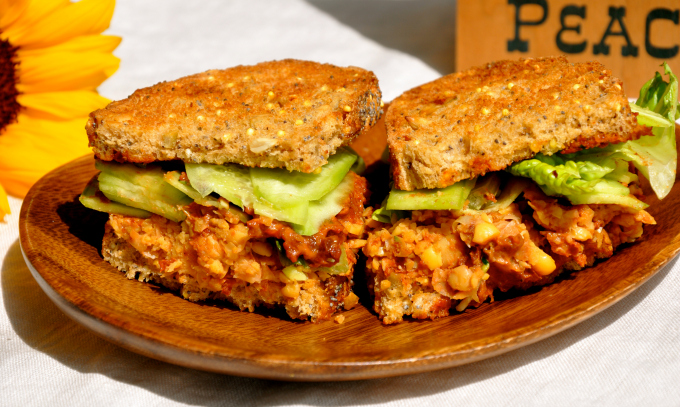 14-ounce carton chickpeas, drained and rinsed
½ cup sun-dried tomatoes (either packed in oil and rinsed or dried tomatoes that have been soaked in boiling water for 15 minutes until soft)
¼ cup vegetable broth
2 tablespoons vegan mayonaise (or more if desired)
pinch of salt and fresh ground black pepper
1 garlic clove, chopped
¼ cup basil, chopped
spinkle of fresh red chili flakes (optional)
Place all the ingredients except the chickpeas in a food processor and process until smooth. Add more vegetable broth if needed.
Add the chickpeas and process another 10-15 seconds. The chickpeas should still be lumpy, but somewhat mashed up.
Stir to combine sun-dried tomato mixture and chickpeas.
Toast your favorite vegan bread. Spread with the sun-dried tomato chickpea spread.
Top with lettuce, sliced cucumber, avocado or your favorite sandwich toppings.
Add extra vegan mayonaisse if desired.
Recipe by
Ordinary Vegan
at https://ordinaryvegan.net/chickpeasandwich/