Poblano Home Fries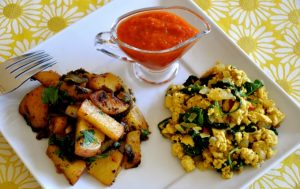 2 lbs potatoes, red or gold or both, chopped in bite size pieces
3 tablespoons of vegan butter
2-6 tablespoons vegetable broth (if needed)
2 poblano peppers, roasted, skin and seeds removed, chopped
1 small onion, chopped (I like sweet onions for this recipe)
2 garlic cloves, chopped
1 jalapeño, finely diced, seeds removed
1½ tablespoons ancho chile powder (or more to taste)
1 teaspoon sweet or smoked paprika
½ teaspoon salt
Zest of 1 lime
Fresh ground black pepper
handful of chopped fresh cilantro leaves
Set the oven rack closest to the broiler. Preheat the broiler.
Place the poblano peppers on a baking sheet and broil the peppers for approximately 6-10 minutes, turning them as necessary until the skins are blackened on all sides.
Remove the peppers from the broiler and place in a closed paper or plastic bag. When cool enough to handle, remove skins and seeds and chop into bite size pieces.
Meanwhile, place the potatoes in a large saucepan and cover with cold water and a pinch of salt. Bring to a boil over high heat and cook until the potatoes are cooked but not falling apart. Check often. Depending on size, these could cook in 10 minutes or less. Drain well.
In a large non-stick saute pan, heat 3 tablespoons of the vegan butter. Add the onion and jalapeño and cook until soft. Add the garlic and cook for 1 minute more. If mixture is sticking, add a little veggie broth instead of more butter. Stir in the chili powder, paprika, salt and pepper.
Add the potatoes and chopped poblano peppers and combine well. Cook until the bottoms of the potatoes are golden brown and crusty. Turn over and cook other side.
Stir in the lime zest and cilantro and serve.