Tofu & Spinach Scramble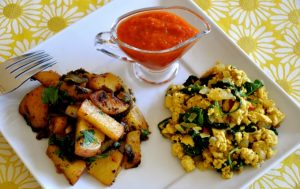 1 14-ounce package of organic, non-GMO, extra firm tofu, drained and crumbled
3 cups of fresh spinach
¼ cup vegetable broth
½ large onion, chopped
1 red Fresno chili, chopped (or jalapeño)
1 garlic clove, chopped
¼ teaspoon salt (or more to taste)
¼ teaspoon pepper (or more to taste)
2 tablespoons nutritional yeast
1 teaspoon turmeric
¼ teaspoon curry powder
In a large bowl crumble the tofu and add all the spices including nutritional yeast.
In a large sauté pan, heat the vegetable broth. Add the onion and fresno chili and cook until soft. Add the garlic and cook one minute more. Add a little more vegetable broth if sticking.
Add the tofu spice mixture and spinach. Cook for another 5 minutes or so. Taste for seasonings.
Garnishes could include a squeeze of citrus, cilantro, salsa, avocado and tortillas.