Spicy Bloody Mary Sauce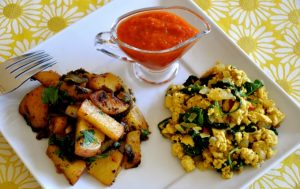 2 red peppers chopped, roasted, skin and seeds removed
1 cup tomato sauce
½ red fresno chili or jalapeño, chopped
1 small red onion, chopped or half of large one
1-2 teaspoons of horseradish from a jar (start with 1 teaspoon and add more if desired)
Zest of one lemon or lime
¼ teaspoon salt (or more to taste)
¼ teaspoon pepper (or more to taste)
⅛ cup of vodka (optional)
Place the oven rack closest to the broiler. Preheat the broiler.
Place the peppers on a baking sheet on the oven rack. Broil the peppers until they are blackened on all sides, turning often. This usually only takes a couple of minutes on each turn so keep a careful watch.
When done, remove the peppers from the baking sheet and place in a closed plastic or paper bag to steam.
When cooled, remove the skins and seeds of peppers and chop.
Add the chopped peppers, onion, tomato sauce, horseradish, zest of lemon or lime, salt, pepper & vodka (if using) in a food processor. Process until smooth.
Taste for seasonings and serve warm or room temperature.