Vegan Pho (Vietnamese Noodle Soup)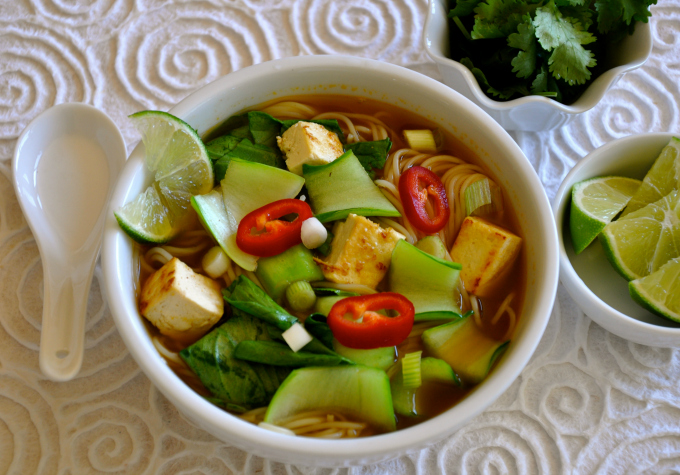 1 tablespoons chili oil
2 large onions, chopped
2 jalapenos or fresno chilis, chopped (or more if you like heat)
10 cloves garlic, chopped
3 stalks lemon grass, chopped
½ cup ginger, peeled and chopped (or more)
4 whole star anise (star-shaped spice) or 1 teaspoon anise seeds
2 cinamon sticks
⅓ cup fresh basil leaves and stems
⅓ cup fresh mint leaves and stems
⅓ cup fresh cilantro leaves and stems
1 teaspoon ground black pepper
7 cups of vegetable broth
1 tablespoon brown sugar
1 tablespoon rice wine vinegar
3 tablespoons low-sodium soy sauce
8 ounce package of rice noodles (or cappelini pasta)
1 8 ounce package of cubed extra-firm organic tofu, grilled *
2 cups sprouts
2 cups fresh spinach leaves (or green of your choice)
2 baby bok choy, chopped and lightly steamed
6 radishes, thinly sliced
4 green onions, thinly sliced
4 serrano chilies, thinly sliced
6 tablespoons chopped fresh basil
6 tablespoons chopped fresh mint
6 tablespoons chopped fresh cilantro
2 limes, cut into wedges
Heat the chili oil in a large pot. Add all the ingredients except for the veggie broth, soy sauce, rice wine vinegar and broth sugar. Saute for about 3 minutes stirring constantly adding a little veggie broth if sticking until fragrant. Add all the vegetable broth, soy sauce, rice wine vinegar and brown sugar. Cover and bring to a boil. Reduce heat to medium-low and simmer, covered, 1 hour. Strain broth, and return to pot. Discard solids. Return to heat to keep hot.
Meanwhile, cook noodles according to directions. Drain, and rinse under cold water. Divide noodles, tofu, sprouts, spinach leaves, radishes, basil, cilantro and mint among bowls. Ladle hot broth into bowls. Stick a lime slice inside of the bowl. Top with sliced green onions and thinly sliced chilis. Serve with cilantro and lime wedges on the side.
Remove cubes from package. Wrap in a towel and lay something heavy on top like a cast iron pan for 15 minutes to remove moisture. Saute dry cubes in a non-stick pan until golden on both sides.
Recipe by
Ordinary Vegan
at https://ordinaryvegan.net/veganpho/