Spicy Asian Pasta Salad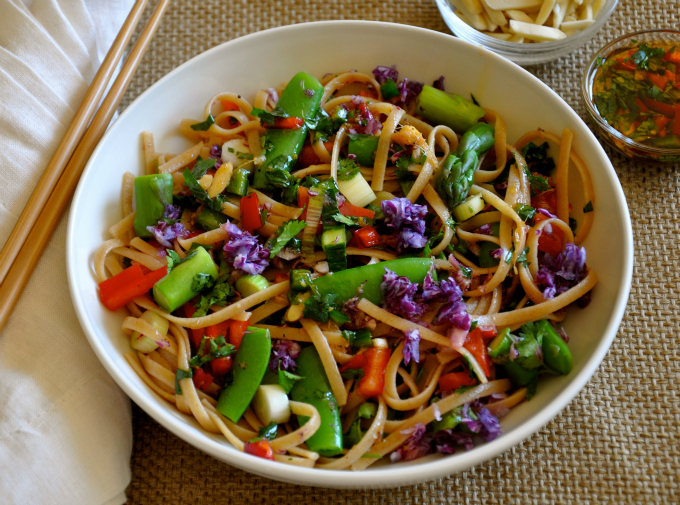 2 limes, juiced
¼ cup organic pure maple syrup
4 Tablespoons organic canola oil
5 Tablespoons soy sauce
1 Tablespoon rice wine vinegar
1 Tablespoon of chili oil (I recommend adding a teaspoon at a time depending on heat of chili oil) Or you can use sesame oil
2 inches of Fresh Ginger, chopped or grated (grated brings out more of the flavor)
1 Fresno chili, chopped (or more to taste)
½ Jalapeno, chopped (or more to taste)
2 Cloves of garlic, chopped
¼ chopped fresh cilantro
1 16-ounce package of whole-wheat linguine noodles, cooked and rinsed (or any noodles you prefer)
1 Red Bell Pepper, chopped
2 cups of kale or spinach, cut into ribbons
1 cup purple cabbage grated (0r napa cabbage) (or more to taste)
8 asparagus spears, cut into 1½ inch chunks, steamed al dente
½ - ¾ lb sugar snap peas, trimmed and steamed al dente
4 green onions, chopped
¼ cup chopped fresh cilantro
Fresh Ground Black Pepper to taste
¼ cup sliced almonds, optional
Cook pasta according to cooking instructions.
Place the sugar snap peas and asparagus in a steamer over the boiling pasta water. Steam for 2-3 minutes keeping them crisp and green.
Whisk together all the ingredients and set aside.
Combine salad ingredients. Add cooked pasta. Whisk the salad dressing and pour over the salad a couple of spoonfuls at a time so you don't overdress. Taste and add ground black pepper to taste.
Garnish with fresh cilantro and nuts if desired. Serve with some extra dressing on the side.