Vegan Mac with Cauliflower Béchamel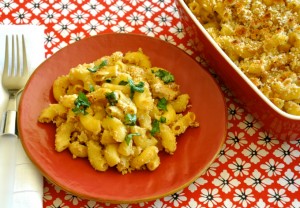 12 ounces of cooked pasta (4-5 cups cooked)
1½ tablespoons vegan butter (+ 3 teaspoons for topping)
1½ tablespoons flour
1½ cups of non-dairy milk
1 bay leaf
1½ tablespoons dry yellow mustard
1 teaspoon sweet paprika
½ teaspoon red cayenne pepper
¼ teaspoon ground nutmeg
1 teaspoon salt
½ teaspoon ground black pepper
1 head of cauliflower, cut into florets
1½ tablespoons nutritional yeast
¼ teaspoon salt
¼ teaspoon ground black pepper
5 slices of vegan bread, chopped
2 cloves garlic, chopped
2 tablespoons chopped parsley
Cook pasta according to directions keeping it somewhat firm and not mushy.
Pre-heat oven to 375 degrees F.
Spread cauliflower in a single layer on a baking sheet lined in parchment paper or aluminum foil.
Place baking sheet on the middle rack of the oven and cook for 30-35 minutes until soft and lightly brown, occasionally stirring. Put cooked cauliflower, nutritional yeast, salt and pepper into a food processor and process until the cauliflower becomes tiny crumbles. Set aside.
Rinse and dry food processor and place cut bread and garlic into it and process until you have breadcrumbs. Set aside.
Lower heat to 350 F
Meanwhile, in a medium saucepan heat the flour and butter until smooth and bubbly but not brown.
Slowly whisk in the non-dairy milk. Add the dry mustard and bay leaf. Continue whisking until it becomes a thick sauce. Remove from heat. Remove the bay leaf. Add the ground cauliflower, salt, pepper, paprika, nutmeg and red cayenne to the béchamel.
Combine cooked macaroni and béchamel sauce and stir until all the pasta is coated evenly.
Put into a 9 x 9 casserole dish that has been lightly greased with vegan butter.
Spread breadcrumbs over the top. Dot with 3 teaspoons of vegan butter.
Put it in the oven at 350 degrees F and cook for 20-25 minutes. Garnish with fresh parsley.
Recipe by
Ordinary Vegan
at https://ordinaryvegan.net/vegan-mac-n-cheese/