Grilled Portobello Mushroom over Mashed Cauliflower with Mushroom Gravy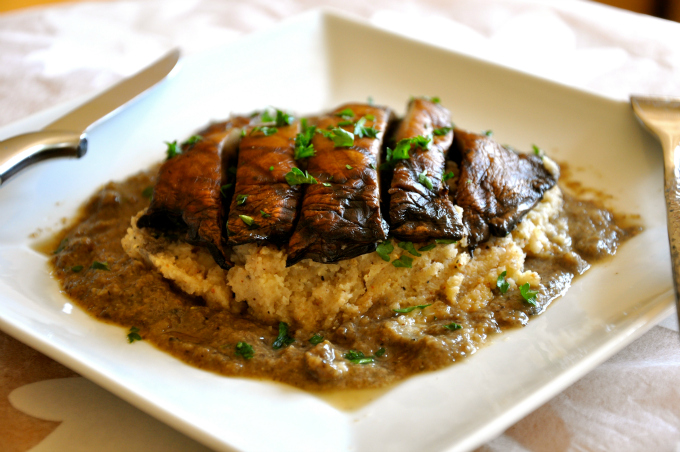 2 large Portobello Mushrooms
Sprinkle of salt & ground black pepper
1 teaspoon of extra-virgin olive oil
1 medium head of cauliflower, trimmed and cut into small florets
1 teaspoon of extra-virgin olive oil
¼ cup non-dairy milk, unflavored
¼ teaspoon salt & ground black pepper (or more or less to taste)
⅛ teaspoon nutmeg (or more to taste)
sprinkle of cayenne pepper (optional - it definitely adds some heat)
handful of your favorite fresh herbs (optional)
Pre-heat the grill or use a greased grill pan over medium high heat.
Heat oven to 400 F. Toss cauliflower with olive oil. Sprinkle a little salt & ground black pepper over top. Place cauliflower florets on a baking sheet lined with parchment paper or aluminum foil. Bake until golden and tender, about 30 minutes. Transfer to a food processor.
Add the non-dairy milk, salt & ground black pepper, nutmeg and cayenne pepper (if using). (you can add your favorite herbs now too)
Purée until smooth adding a little more non-dairy milk if needed. It should have a mashed potato consistency. You can also add a tablespoon or two of vegan butter for richness.
Meanwhile, clean mushrooms and remove stems. Reserve stems for another use or for the mushroom gravy. Brush the mushrooms with the olive oil. Season with salt and ground black pepper.
Place the Portobellos stem side up on the hottest part of the grill. Cook for about 5 minutes or more. Flip to the other side and cook for an additional 5 minutes or more depending on grill heat. They should be soft and juicy with strong grill marks. Slice and serve immediately over hot cauliflower mash.
Recipe by
Ordinary Vegan
at https://ordinaryvegan.net/grilled-portobello/