Sourdough, Mushroom & Vegan Bacon Stuffing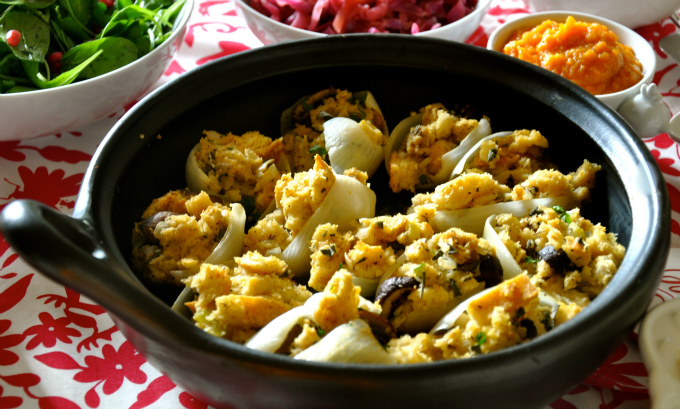 1½ lbs of mushrooms, stems removed, coarsely chopped (use a variety of your favorite)
2 teaspoons of extra-virgin olive oil (if you are not using oil, you can roast without)
sprinkle salt & ground black pepper
12 cups sourdough bread, crusts removed, cut into ½-inch cubes (or any vegan bread)
1 large onion, chopped
3 stalks celery, chopped
4 cloves garlic, chopped
2 tablespoons vegan butter (or you can use vegetable broth)
2 flax eggs (2 tablespoons of ground flax seed whisked with 6 tablespoons of water and placed in the refrigerator for 15 minutes or more to thicken)
¼ cup vegan bacon* recipe below (optional)
3 tablespoons chopped fresh sage
1½ tablespoons chopped fresh rosemary
1½ tablespoons chopped fresh thyme
½ cup fresh parsley, chopped
3 to 5 cups vegetable broth plus 2 tablespoons for sauteing
1 teaspoon salt (or more to taste)
½ teaspoon ground black pepper (or more to taste)
Preheat oven to 350 degrees F.
Spread the bread onto a large baking sheet in an even layer and bake, until lightly golden brown, about 10 minutes, stirring occasionally. Remove and let cool.
Increase the oven to 375 degrees F. Place the sliced mushrooms into a large baking dish or baking sheet. Drizzle with olive oil and sprinkle with salt and pepper. Roast, stirring occasionally, until soft and golden brown, about 20-25 minutes.
Meanwhile, heat 2 tablespoons of vegetable broth or vegan butter in a large saute pan. Add the onion and celery and cook until soft. Add more broth if sticking. Add the garlic and cook another 1 minute. Add 3 cups of the vegetable broth, herbs, salt and pepper and bring to a light simmer and immediately remove from heat.
Place the bread cubes into a large bowl. Add the the mushrooms and juices, onion celery stock, vegan bacon if using and flax eggs and gently stir until combined. The dressing should be moist but not soggy. It takes a couple of minutes for the liquid to absorb the bread so give it a couple of minutes before you add more vegetable stock. Taste and adjust seasonings.
Place the mixture into a greased 13 by 9 baking dish. Cover with aluminum foil and bake for 20 minutes. Remove the foil and continue baking until the top is golden brown about 30-35 minutes longer.
Remove from oven and let cool 5-10 minutes before serving.
Recipe by
Ordinary Vegan
at https://ordinaryvegan.net/vegan-thanksgiving-recipes/