Green Bean Casserole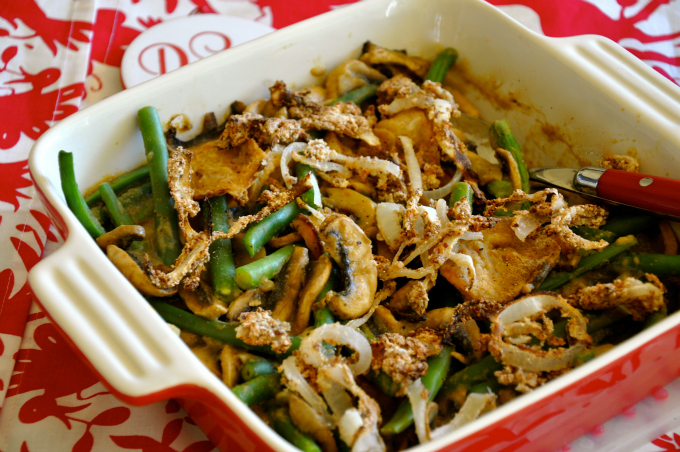 2 medium onions, thinly sliced and separated into rings
¼ cup flour
½ cup vegan bread crumbs (I used 1½ slices of Rudi's vegan gluten-free bread processed in the food processor - you can usually find Rudi's in the refrigerated aisle of your local grocery store)
½ teaspoon salt
¼ teaspoon ground black pepper
pinch of cayenne (optional)
1 pound fresh green beans, trimmed and halved
12 ounces of mushrooms, sliced (any variety you like - I used white and brown)
4 tablespoons vegetable broth for sauteing or more if needed
2 cloves garlic
½ teaspoon salt (or more to taste)
¼ teaspoon ground black pepper (or more to taste)
¼ teaspoon ground nutmeg
2 tablespoons all-purpose flour
¾ cup vegetable broth
½ cup non-flavored non-dairy milk
Pre-heat the ovenn to 400 degrees F.
Make flax eggs by combining 3 tablespoons of ground flax seed whisked with 9 tablespoons of water. Put in refrigerator for 15 minutes or more to thicken. Place in a bowl.
Combine bread crumbs in a medium size bowl with salt, pepper and cayenne if using.
Place onion rings in a large resealable plastic bag. Add the flour to the bag and shake until the rings are well coated.
Drop the flour-coated rings into the flax egg mixture bowl until coated.
Add the rings to the vegan bread crumbs and toss until coated with crumbs.
Transfer the coated onion rings to a large baking sheet covered in parchment paper or lightly oiled. Bake until the onion rings are tender and the crumbs are a golden brown, approximately 15 minutes, turning once.
Boil a large pot of water with a teaspoon of salt. Add the beans and blanch for 5 minutes. Drain and rinse in cold water to stop cooking. Drain and set aside. You can also steam them for 3-5 minutes.
Heat the 4 tablespoons of vegetable broth, salt and ground black pepper in a large saute pan over medium heat. Add the mushrooms and cook, stirring occasionally for approximately 5 minutes. Add more broth if sticking but give the mushroom a minute to release their own juices.
Add the garlic and nutmeg and cook for another minute. Sprinkle the flour over the mixture, stir and cook for another minute. Add the vegetable broth and bring to a simmer. Decrease the heat and add the non-dairy milk. Cook until the mixture thickens, stirring for approximately 5-7 minutes.
Remove fro the heat and stir in a handful of the onion rings and green beans. Transfer to a casserole dish. Top with ½ cup of onion rings or more to taste and bake at 375 degrees F until bubbling, approximately 15 minutes. Serve immediately.