Marinated Seitan Sandwich with Spicy Cabbage Slaw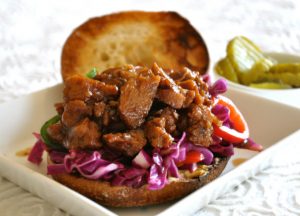 8 ounces plain seitan, cut into bite sized pieces
¼ cup Tamari or low-sodium soy sauce
¼ cup brown sugar
2 cloves garlic, chopped
2 teaspoons of chopped fresh ginger (or ¾ teaspoon of ground ginger)
1 tablespoon dijon mustard
2 tablespoons vegetable broth for sauteing seitan
Vegan bread or rolls
Spicy brown mustard (optional)
½ red or white cabbage, cored and cut into ribbons
½ red onion, chopped
1 red fresno chili or jalapeno, sliced thinly with seeds removed
¼ cup good red wine vinegar or white vinegar
⅛ cup extra virgin olive oil (or more if too tart for your liking)
4 cloves garlic, chopped (use less if you don't like too much garlic)
2 tablespoon fresh lemon juice (1 lemon)
1 tablespoons dried oregano
1 teaspoon salt
fresh ground black pepper to taste
Place the seitan in a glass bowl. Whisk together the soy sauce, brown sugar, garlic cloves, ginger and dijon mustard. Pour over seitan and mix well. Cover and refrigerate for 1 hour, turning once.
Whisk together the vinegar, olive oil, garlic cloves, lemon juice, dried oregano, salt and ground black pepper. Set aside.
In a large bowl, combine cabbage, red onion and fresno chili. Add half the dressing. Toss. Add salt and ground black pepper. Taste for seasonings and add extra dressing if needed. A little at a time. You don't want to overdress the cabbage. Refrigerate for at least 15 minutes.
Heat oven to 375 degrees.
Heat a non-stick pan over medium heat with a couple of tablespoons of vegetable broth. Remove the seitan from marinade saving the liquid. Place the seitan into the pan and sear for about 3-4 minutes, on until lightly browned. Put in a baking dish. Add the marinade and bake in the oven for an additional 15 minutes.
Grill or toast your bread and spread each slice with a grainy mustard. Spoon a large mound of red cabbage on top of the bread. Top with ¼ of the seitan. Spoon some pan juices over the seitan and serve.
Recipe by
Ordinary Vegan
at https://ordinaryvegan.net/marinated-seitan/