Red Bell Pepper Soup with Crunchy Roasted Chickpeas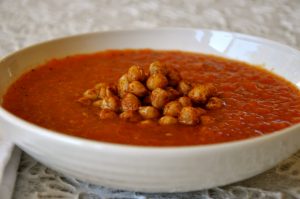 ¼ cup vegetable broth for sautéing
3 cups vegetable broth for soup
4 large red bell peppers seeded, and diced (or you can roast them and remove skin - see below)
½ medium onion, chopped
2 cloves of garlic minced
5 plum tomatoes chopped
1 bay leaf
1 teaspoon salt
1 pinch saffron
handful of fresh, chopped basil for garnish
1 13 ounce carton of cooked garbanzo beans (chickpeas), rinsed
½ teaspoon cayenne pepper (or less if you don't want much heat)
½ tablespoon paprika
¼ teaspoon salt
Juice of 1 lemon
handful of fresh chopped basil
Heat the vegetable broth in a medium soup pot. Add the onion, garlic, and red pepper and sauté until the vegetables are soft, approximately 5 minutes. Add the tomatoes and sauté for another 2-3 minutes. Stir in the saffron, salt, bay leaf and vegetable broth. Bring broth mixture to a simmer and cook for approximately 30 minutes. Remove from heat and let cool. Remove bay leaf.
Transfer the so to a blender or food processor and process until just smooth. Be careful not to over-process so it keeps it beautiful red color. Return to soup pot and heat through.
Ladle into soup bowls. Top with a mound of roasted chickpeas and fresh chopped basil.
Preheat the oven to 400 degrees.
In a large bowl, combine the cayenne, paprika, salt and lemon juice.
Toss in garbanzo beans and mix. Taste for seasoning.
Place the beans in a single layer on a baking sheet lined with parchment paper or aluminum foil. Bake for approximately 25-35 minutes or until crunchy and roasted. Be careful not to burn and rotate the beans for even cooking. Remove from oven and toss with fresh chopped basil.
*you can also roast the red bell peppers for a more smokey flavor. Just preheat the broiler of your oven. Cut peppers in half lengthwise at the stem. Remove the stems, seeds, and ribs. Place them on a baking sheet about 3 to 4 inches under the broiler. After about 5-10 minutes, the skins will blister and blacken. You need to keep checking every couple of minutes. When they are evenly blackened, remove from oven. Place the peppers in a plastic or paper bag and seal it. Set aside for about 20 minutes to steam. Open the bag and remove stem, skins and seeds. Coarsely chop before putting into food processor or blender.
Recipe by
Ordinary Vegan
at https://ordinaryvegan.net/red-bell-pepper-soup/