Raspberry Lime Sorbet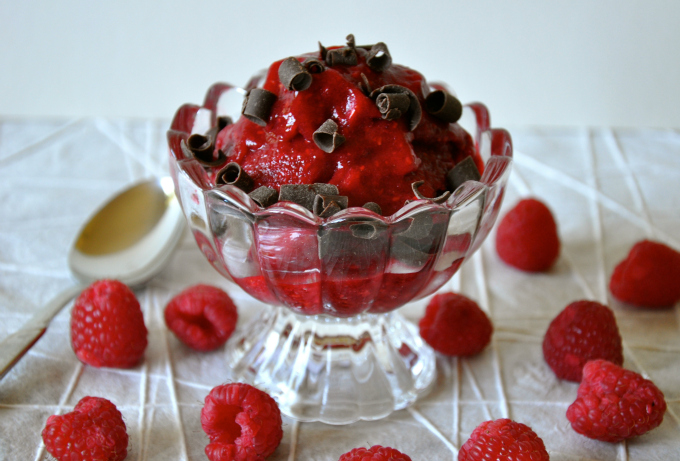 3 pints fresh or 2 10 ounces frozen raspberries
½ cup fresh orange juice (juice from 2 medium oranges)
3 tablespoons lime juice (juice from 2 limes)
4 tablespoons organic maple syrup
1 ounce vegan dark chocolate curls (optional)*
Fresh mint, for serving (optional)
In a shallow, glass dish, combine the raspberries, orange juice, maple syrup and lime juice. Stir well to combine. Cover and put into the freezer until frozen solid, approximately 5 hours.
Remove from the freezer and let it sit for 10 minutes. Break off chunks with a knife or large spoon and transfer the mixture to a food processor and process until smooth and creamy about 5 minutes. Serve immediately or place back into the freezer for up to 1 hour before serving. The sorbet will freeze solid again but can be processed again until creamy just before serving.
To serve, place a scoop into an ice-cream dish. Garnish with fresh raspberries, mint and dark chocolate curls.