AVOCADO & CHICKPEA HUMMUS with POMEGRANATE SEEDS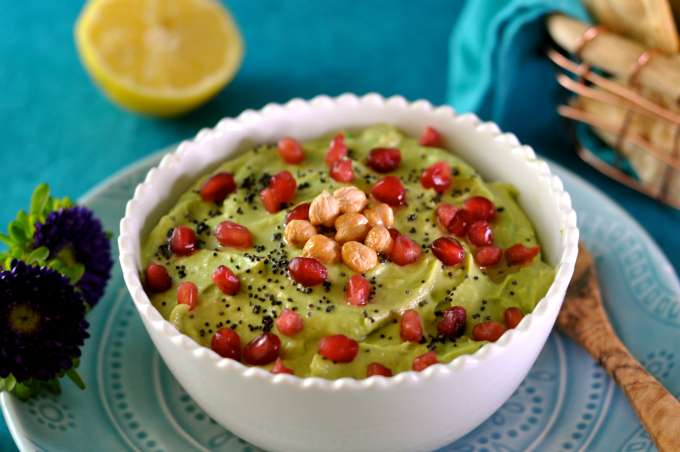 2 tablespoons olive oil
2-3 garlic cloves
Juice of 2 lemons, separated
2 tablespoons dijon mustard
2 cups drained cooked chickpeas, rinsed (or fresh cooked)
6 tablespoons of tahini
¼ cup extra-virgin olive oil
¼ cup vegetable broth
3 ripe avocados, cut into chunks
¼ cup pomegranate seeds for garnish
Poppy seeds for garnish
¼ teaspoon salt
¼ teaspoon ground black pepper
Heat the 2 tablespoons of olive oil in a small saute pan. Add 2-3 garlic cloves and simmer over low heat until tender being careful not to burn.
Place garlic confit, mustard and juice of 1 lemon in food processor. Pulse until smooth.
Add chickpeas, tahini, vegetable broth, salt and pepper. Process until smooth. If it is too thick, add a little more vegetable broth.
Move to a bowl. Without cleaning the processor, add the avocado, olive oil and remaining lemon juice. Process until smooth.
Fold avocado puree into chickpea puree and stir. Taste and add more salt and pepper if needed.
Place in a bowl and garnish with pomegranate seeds and poppy seeds.
Serve with vegetables or pita bread.
Recipe by
Ordinary Vegan
at https://ordinaryvegan.net/avocadochickpeahummus/