Hemp Seeds Beans and Greens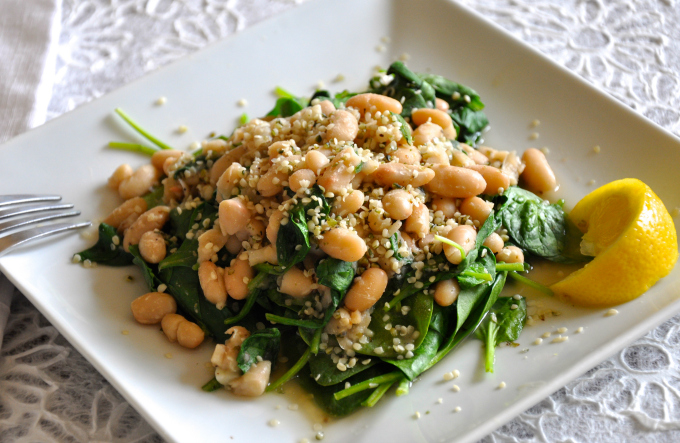 5-10 ounces of chopped greens (spinach, kale or swiss chard or combination of all)
1 15-ounce carton of cooked cannelilnii beans (or any white bean)
2 garlic cloves, chopped
2 tablespoons hemp seeds
1 tablespoon bean liquid
¼ vegetable broth for sautéing plus ½ cup vegetable broth for greens
¼ teaspoon salt
¼ teaspoon ground black pepper
Juice of one lemon
Strain the cannellini beans reserving 1 tablespoon of the liquid. Rinse. Place on a large plate or bowl and smash half the beans and 1 tablespoon of hemp seeds with a potato masher.
Heat ¼ vegetable broth in a large sauté pan. Sprinkle with salt and pepper. Add the garlic cloves and cook for 1-2 minutes or just enough for the aroma to shine through and the garlic softens. Never brown your garlic or it will turn bitter.
Add the cannellini beans, bean liquid and cook for another minute. Add the greens and ½ cup of the vegetable broth. Cover and cook for approximately 3 minutes or until the greens have softened a bit but still shiny and green. Squeeze the lemon juice on top. Toss. Garnish with another 1-2 tablespoons of hemp seeds. If you like a little heat, add some red pepper flakes.
Serving size:
½ recipe
Calories:
3ll
Carbohydrates:
16
Protein:
15 grams
Recipe by
Ordinary Vegan
at https://ordinaryvegan.net/hemp-seeds/