Roasted Chickpea Thanksgiving Cakes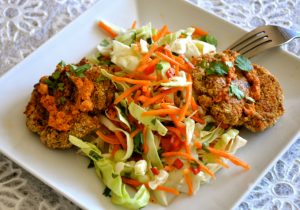 1 15 ounce carton or can of cooked garbanzo beans, rinsed
¼ cup vegetable broth for sautéing (or more if needed)
2 teaspoons grated ginger
2 garlic cloves, chopped
½ cup onion, chopped
½ cup celery, chopped
1 teaspoon dried basil
6-8 sage leaves, chopped (depending on size - if smaller use 8)
2 flax eggs (2 tablespoons of ground flax whisked with 5½ tablespoons of water - put in refrigerator for 10 minutes to thicken) or a commercial egg replacer
¼ cup apple, grated
1 teaspoon baking powder
1 teaspoon salt
½ teaspoon ground black pepper
1 cup vegan breadcrumbs (or more if needed)
Pre-heat oven to 425 degrees F. Line a baking sheet with parchment paper and set aside.
In a nonstick skillet, heat the vegetable broth. Add the onion and celery and saute until soft about 3-5 minutes. Add the garlic, ginger, basil, salt, pepper and sage leaves. Saute for another 2-3 minutes. Remove from heat.
In a food processor, add the rinsed garbanzo beans, flax eggs, apple, onion mixture and baking powder. Puree to combine. Remove from processor and place in a large bowl. Add bread crumbs. Combine. Taste for seasonings.
With wet hands form 6 patties. Adding more bread crumbs if needed to hold it together. Place on baking sheet lined with parchment paper. Cook for 30-40 minutes, turning once.
Recipe by
Ordinary Vegan
at https://ordinaryvegan.net/unhealthy-oils/