Farro Bowl with Apples, Fennel, Dandelions and Romesco Sauce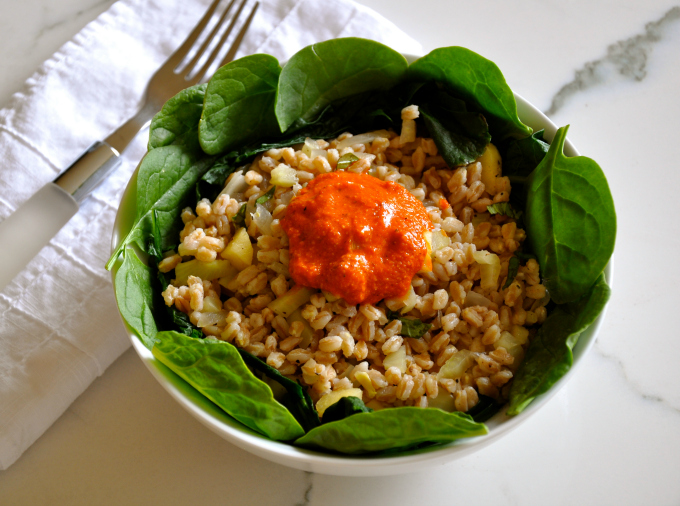 1½ cups dry farro rinsed (cooking instructions below)
1 cup chopped sweet onion
1 cup chopped fennel
1 cup chopped apple
¼ cup vegetable broth for sautéing (or more if sticking)
½ teaspoon salt (or more to taste)
¼ teaspoon ground black pepper (or more to taste)
bunch of rinsed dandelion greens (or any greens you like)
Handful of fresh basil chopped
3 tablespoons fresh lime juice
4 tablespoons rice wine vinegar
2 teaspoons of organic maple syrup
dash or two of hot sauce
¾ cup roasted red pepper (I use jarred in water or you could use fresh)
2 tablespoons of hazelnuts (soaked overnight or 6 hours then rinsed) If you don't have soaked hazelnuts you can make it without or with almonds.
½ small red fresno chili, chopped
1 tablespoon chopped shallots
1 tablespoon red wine vinegar
½ teaspoon dijon mustard
pinch of horseradish (optional)
Measure 1 and ½ cups farro into a fine mesh sieve and rinse with cold water. Drain. Transfer to a medium sized pot that has a lid. Add 4 cups water and ¼ teaspoon salt. Bring to a boil over high heat. Reduce heat to low, cover and cook for 25 minutes, until it is softened but still chewy. If there is liquid remaining in the pot, drain off. Use a fork to fluff. Leave lid on to stay warm.
Chop the onion, fennel and apple in equal small sizes.
Heat ¼ cup vegetable broth, salt and pepper in a large sauté pan. Add the onion and fennel. Sauté until soft and translucent. Add the apple and sauté another minute or two. Add more vegetable broth if needed.Top sauté pan with rinsed greens and cover. Cook for about 1- 2 minutes just to brighten the greens. Try not to overcook. The water on the rinsed greens should be enough liquid for steaming but add a little more if needed.
Garnish with lemons and crushed hazelnuts.
In a small bowl combine all the ingredients and whisk until smooth. Taste for salt & pepper. Add if needed.
In a food processor, combine all the ingredients. Process until smooth. Season with additional salt & pepper and more horseradish if using and needed.
Add the warm farro to large bowl. Add the warm greens and onion mixture. Add about ¾ of the lime vinaigrette. Add the fresh basil. Taste for seasoning. Add more vinaigrette, salt and pepper if needed. Place servings in bowls. Top with romesco sauce.
Recipe by
Ordinary Vegan
at https://ordinaryvegan.net/mental-illness/