Chickpeas and Spinach with Spicy Breadcrumbs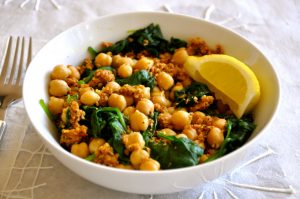 1 13 ounce carton of cooked chickpeas, rinsed
6 ounces of fresh spinach (or more)
1½ slices of vegan bread, crusts removed, cut into small squares
2 teaspoons olive oil
4 cloves of garlic, chopped
½ teaspoon cumin
½ teaspoon dried oregano
¼ teaspoon red chili flakes
½ teaspoon salt
¼ teaspoon of ground black pepper
¾ tablespoon red wine vinegar
a pinch of saffron (approximately 30 strands), infused in 2 tablespoons of boiling water
½ teaspoon smoked paprika
½ cup vegetable broth (separated into ¼ cups)
1 lemon cut in wedges
Heat ¼ cup of vegetable broth in a large non-stick sauté pan. Season with a little salt and pepper. Add spinach. Cover and steam until the spinach leaves are just wilted approximately 3-4 minutes. Add more vegetable broth if sticking. Drain in colander and set aside.
Dry the sauté pan and heat 2 teaspoons of olive oil. When the oil is hot, add the bread cubes. Toast the bread until golden all over. Transfer to food processor.
Add the remaining ¼ cup vegetable broth to the sauté pan. When hot, add the garlic, cumin, oregano, salt, pepper and chili flakes. Cook until the garlic is soft adding more vegetable broth if needed. Transfer to the food processor. Add the red wine vinegar. Process to a paste.
Return the bread mixture to the sauté pan with the drained chickpeas and saffron-infused water. Stir until the chickpeas are hot and have absorbed the flavors of the bread mix and saffron water. Add a little more vegetable broth if sticking or too thick. Taste and season.
Add the cooked spinach and cook until heated through. Serve sprinkled with paprika and garnish with lemon wedges.
Recipe by
Ordinary Vegan
at https://ordinaryvegan.net/chickpeas/