STUFFED ZUCCHINI WITH BROWN RICE AND PINE NUTS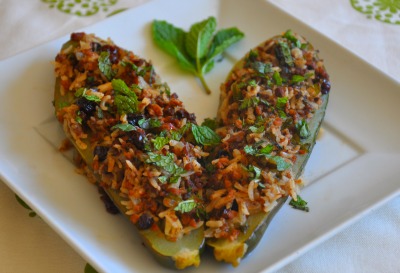 ¾ cup brown rice, long grain
1½ cups water
1 bay leaf
½ tsp fennel seeds
2 tbsp pine nuts
2 lbs zucchini, green or yellow (2-3 large)
l medium onion diced
2 garlic cloves minced
8 ounces mushrooms thinly sliced (any kinds)
1 tsp dried thyme or oregano
1 tbsp sweet paprika
14 ounces tomatoes (1 tomato medium, dice) (2 tomatoes sliced ¼")
2½ cups swiss chard or spinach shredded
½ cup fresh basil shredded
In medium sized saucepan, combine rice, water, bay leaf and fennel seeds and simmer, covered for about 35 minutes. Remove rice from heat and let stand for 10 minutes. Discard bay leaf and fluff rice with fork. cover and set aside
Wash and trim both ends of zucchini, then cut in hallf lengthwise. Use a spoon to scrape out zucchini pulp leaving about ½" thick walls for "zucchini boats" - Coarsely chop zucchini pulp an set aside
PRE-HEAT OVEN AT 350 Degrees
Spray a shallow baking pan, just large enough to contain zucchini with vegetable spray and set aside
In small non-stick saute pan, lightly brown pine nuts over medium heat - set aside
In a medium sized, non stick saute pan, heat olive oil over medium heat. Add onion and garlic and saute until translucent. Add sliced mushrooms, thyme and paprika. Saute mushrooms until soft, then add zucchini pulp and cook for 2 to 3 minutes. Add cooked brown rice, diced tomato and swiss chard. Stir and saute until chard wilts and mixture binds together. Add shredded basil and toasted pine nuts.
Generously mound filing in zucchini boats. Let it overflow
Transfer filled zucchini to prepared baking pan. Top each zucchini boat with sliced tomatoes. Sprinkle black pepper over tomato slices. Add ⅓ " water to bottom of pan. Cover pan with foil and bake for about 35 minutes or until tender.
Recipe by
Ordinary Vegan
at https://ordinaryvegan.net/stuffed-zucchini-brown-rice/