Hot & Sour Cabbage Mushroom Soup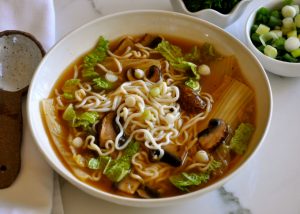 1 small head of cabbage, chopped into bite-size pieces
2½-3 cups chopped mushrooms, portobello, crimini or mixed variety
1 8-ounce package of tofu noodles (or your favorite noodles)
6-7½ cups vegetable broth (divided)
1-inch fresh ginger, peeled and finely chopped or grated
1 tablespoon chili paste (I like Sambal Olelek)
¼ cup Tamari or low-sodium soy sauce
¼ cup rice vinegar1/2 teaspoon ground black pepper
1 teaspoon maple syrup
3 tablespoons organic tapioca or corn starch
¼ cup water
Chopped green onions and parsley for garnish
(Optional Serve over some cubed extra-firm House Foods Organic Tofu)
Combine the soy sauce, chili paste, maple syrup, pepper, and rice vinegar in a small measuring cup and set aside.
Combine the corn starch and ¼ cup water until smooth and set aside.
Heat ½ cup of vegetable broth in a large pot over medium-high heat. Add the ginger and chopped mushrooms. Cook and stir for approximately 3-4 minutes until ginger is soft and the mushrooms have released their juices.
Add the soy sauce mixture. Cook for another minute. Add 6 cups of vegetable broth. Bring to boil. Reduce heat and add cabbage. Cook until the cabbage is slightly softened about 3 minutes. Add the cornstarch mixture and continue to simmer until the soup thickens. Add the noodles and cook for one more minute. Season with salt and ground black pepper if needed.
Ladle into large bowls. Garnish with green onions and parsley.
Recipe by
Ordinary Vegan
at https://ordinaryvegan.net/easy-soup/