Stuffed Red Lentil Loaf with Mushrooms, Red Peppers and Spinach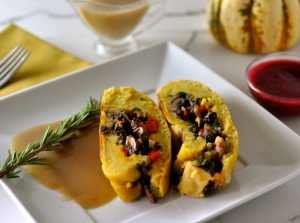 1¼ cups red lentils, rinsed
2¾ cups vegetable broth (or water)
1 bay leaf
1 teaspoon salt
Fresh ground black pepper
½-1 cup of semolina flour plus 2 tablespoons for dusting parchment paper
¼ teaspoon saffron threads
4 tablespoons of boiling water
¼ cup of vegetable broth for sautéing
1½ cups of chopped roasted red bell peppers from a jar
8 cups of spinach, chopped (or 1 10-ounce package frozen)
4 cups sliced all white or Cremini mushrooms (or combination of both)
½ cup chopped walnuts
3 tablespoons chopped fresh basil
1 teaspoon chopped fresh rosemary
1 teaspoon chopped fresh thyme
½ teaspoon salt
½ teaspoon fresh ground black pepper
Pre-heat the oven to 350 degrees F.
Rinse the lentils under running water and drain. Add lentils, vegetable broth, salt and bay leaf to a saucepan and bring to a boil. Turn heat down to low, cover and cook for 30 minutes or until the lentils are soft and the broth absorbed. Check on them occasionally. Discard the bay leaf and transfer to a mixing bowl. Set aside until cool.
Meanwhile, combine the ¼ teaspoon of saffron with 4 tablespoons of boiling water, stir and set aside.
When the lentils are cool, stir in the saffron mixture. Stir in ½ cup of flour and mix until the ingredients are incorporated. Keep adding more flour until the lentils take on a dough-like consistency. Taste for seasonings and add more salt and ground black pepper if needed. Set aside.
In a large saute pan, heat the ¼ cup of vegetable broth and season with salt and ground black pepper. Add the mushrooms, spinach, red peppers, thyme, basil, rosemary. Saute for about 3-4 minutes or until the mushrooms are soft. Transfer to a colander and drain off juice. Chop coarsely and pour the mixture into a mixing bowl.
Pre-heat the oven to 350 degrees F.
Meanwhile, heat a small saute pan over medium-high heat. Add the chopped walnuts and toast lightly, stirring or until the nuts are golden and fragrant. This will only take 2-3 minutes.
Add the walnuts to the vegetables.
Dust a large piece of parchment paper with 2 tablespoons of the semolina flour. Place the red lentil dough on top and shape with your hands a rectangle. Then, using a well floured rolling pin, roll into a 8 by 10-inch rectangle. If the rolling pin is sticking, use your hands. Spread the mushroom mixture evenly onto the dough.
Slowly roll the dough into a log shape by rolling the parchment paper along with the dough.Don't worry if the parchment paper gets rolled into the log. It will slide out easily after it cools. Pinch the ends of the parchment and place the log onto an oiled baking sheet, seam-side down. Bake for 1 hour and 15 minutes. Remove from the oven and let rest for 20 minutes.
Carefully remove the parchment paper. Cut the log into 8 rounds. Place 2 rounds each onto plate. Serve with mushroom gravy.
Recipe by
Ordinary Vegan
at https://ordinaryvegan.net/vegan-meals/