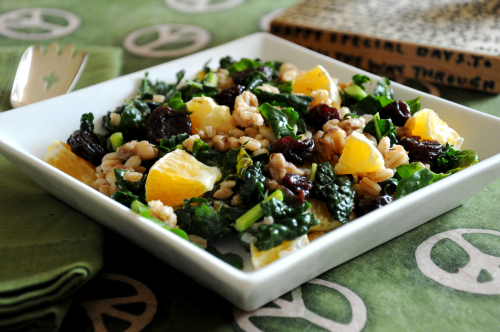 Farro Salad with Kale, Blood Oranges, Walnuts & Dried Tart Cherries
Someone once told me that I could "will the sun to come up".
He was saying it sarcastically,  but I thought it was one of the nicest things anyone has ever said to me.
Strong will has no boundaries, and we all have that seed within us. We can use this powerful tool in a positive way to fulfill all our desires…and all it takes is a little practice.
Do you remember the first time you showed your will?
Probably not because you were most likely a toddler.  Some toddlers are more strong willed than others,  but those parents are lucky.
Strong willed children can be a challenge to parents when they are young, but if sensitively parented, it is said they become remarkable teens and young adults.
When we reach our teens, we experience blind will. Blind will is doing things and not thinking of the consequences.
Hmmm.. I remember that exceedingly well, and I'm sure my parents did too.
When we become adults, it is crucial that we continue to develop our will.
Will is desire and energy directed to fulfillment and and when you tune into it, it is always there to help you.
Eventually,  you can use  your will to tap into any desires and aspirations, and will an act to victory.
So how do we cultivate our will?
I propose starting with small things.
Try something you didn't think you could do. I suggest meditation or at least just sitting still for 3-5 minutes.
Once you accomplish that, you will be surprised how easy it is to sit still for 10 minutes.
As you all know, I advocate a vegan diet,  but I always encourage people not to try to do everything at once.
Start with more veggies and less meat and gradually increase the veggies. Do something you didn't think you could do everyday.
Small resolutions can develop strong willpower.
As we practice this and grow will power, we can direct it to the things we want most. Eventually, you will quench the thirst of all your desires by sheer will.
Now on to food! Unfortunately, it is flu season.
It is times like these that some people miss their chicken soup. Well you don't need chicken soup anymore because you can eat this immune boosting, infection fighting,  citrus farro salad with kale, blood oranges, walnuts and dried cherries.
The blood oranges and tangerines are packed with vitamin C and bioflavonoids that give you an added immunity boost.
Kale also contains high levels of vitamin C and antioxidants that fight infection. The chewy, nutty grain, farro has cyanogenic glucosides, a type of carb that boosts the immune system.
The dried tart cherries are loaded with antioxidants,  and the walnuts have more antioxidants than other nuts like cashews, hazelnuts and pecans.
Antioxidants provide a number of health benefits including prevention of disease.
So, kick that flu to the curb and have a yummy meal at the same time. Hope you enjoy this farro salad as much as I did.  Don't miss any of Ordinary Vegan's free recipes by signing up here.

Citrus Farro Salad with Kale, Blood Oranges, Walnuts & Dried Tart Cherries
Citrus Farros Salad with Kale blood oranges walnuts and dried fruit
Ingredients
Tangelo dressing
2 tangerines, peeled and sectioned, seeds removed
2 tablespoons extra virgin olive oil (If you are oil-free, replace with 1-2 tablespoons white wine vinegar)
2 tablespoons balsamic vinegar
drizzle of water
pinch of salt & ground black pepper
salad
2 tablespoons olive oil
2 large shallots, peeled and sliced into thin rounds
1 cup farro, cooked according to instructions
3 cups mixed kale, cut into thin ribbons
3 blood oranges, peeled, sectioned and cut into one-inch dice
¼ cup chopped walnuts (or more to taste)
¼ cup dried tart cherries (or more to taste)
½ teaspoon salt and fresh ground pepper to taste
Instructions
To make the dressing,
combine everything in a blender, pureeing until smooth. Add water or salt as needed.
salad
Place the kale ribbons on a large serving bowl.
Drizzle with half the dressing, sprinkle in some sea salt. Massage the kale in the dressing for 2-3 minutes.
In a small frying pan, heat 2 tablespoons olive oil over medium-high heat. Add the shallot slices, and a pinch of sea salt. Sauté, stirring occasionally, for about 10 minutes, or until the shallots are browned on the edges and translucent.
Gently toss the remaining ingredients with the kale, adding a few more tablespoons of dressing and adjusting salt & pepper levels as needed. Make sure you don't overdress it.
Set aside for a few minutes while flavors commingle, and serve.