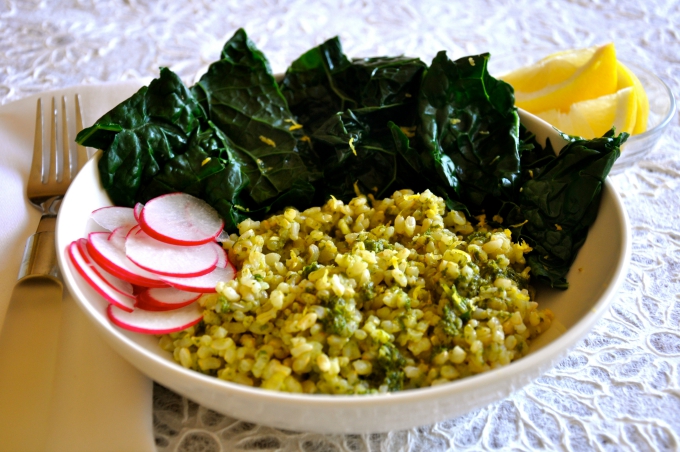 If you are looking for a healthy, delicious, gluten free recipe for lunch or dinner, you can't go wrong with this gluten free rice bowl.
Sometimes simple food can not only nourish you but also explode with flavor. That is how I feel about this sorrel lemon rice.
If you have never had sorrel before, I promise you won't be disappointed. Some people describe its' taste as a tart, sour green apple. I think it has a zesty, vibrant kick.
It's super high in vitamin C and a good source of iron. Sorrel is a cool weather herb and it's not uncommon to find it at your local Farmer's Market in the fall and early, early spring.  If sorrel isn't available, you could replace it with basil but it would not have the kick and excitement of the sorrel.
I like this rice with kale. Not only for the health benefits but kale's earthy flavor is a perfect compliment to the sorrel.
Hope you enjoy this mega healthy gluten free rice bowl as much as I did. Don't miss any of Ordinary Vegan's free recipes by signing up here.
Are you going to try this recipe? If so, please let me know. Leave a comment, rate it, and don't forget to tag a photo #ordinaryvegan on Instagram.
I have a podcast on plant-based nutrition. You can listen here on this website or in iTunes.   My podcast is dedicated to helping people like you live a long and healthy life
You can also join our health and wellness community on Facebook. There are over 315,000 healthy, vibrant community members waiting to embrace you.
*Finally, many people in the wellness world are turning to cannabidiol, commonly referred to as CBD Oil, for its powerful anti-inflammatory and anti-anxiety effects. I believe it is the next step in health and wellness for people suffering from anxiety disorders, depression and chronic pain.  You can now purchase a safe and effective vegan Plant-based CBD Oil made from Hemp from me. Link here.
Thanks for stopping by and hope you have a peaceful and compassionate day.
Gluten Free Rice Bowl with Sorrel, Kale, Lemon & Radishes
Gluten Free Rice Bowl with Sorrel, Kale, Lemon & Radishes
Sorrel is a wonderful addition and gives this simple rice dish a zesty, vibrant kick!
Ingredients
2 cups cooked short-grain brown rice
1 cup sorrel leaves
2 garlic cloves, chopped
2 fresh squeezed lemons (approximately ¼ cup lemon juice)
1 tablespoon of extra-virgin olive oil
½ teaspoon dried dill (or ½ tablespoon of fresh)
½ teaspoon salt
fresh ground black pepper to taste
1 small bunch organic kale, ribs removed and chopped
Zest of one lemon
2 red radishes, sliced thin for garnish
Lemon wedges for garnish
hot sauce (optional)
Instructions
Cook short-grain rice according to directions. Keep warm.
Place the sorrel leaves, chopped garlic, fresh squeezed lemon juice, olive oil, dill, salt and pepper in a food processor or blender. Process or blend until smooth. If it is too thick, add more liquid.
Place the chopped kale in a steamer basket. Bring 3 inches of water to boil in a large pot then carefully place the steamer basket into pot. Cover and cook for approximately 3 minutes or until the kale is just wilted. Season with a little salt and pepper. Keep warm.
In a medium bowl, toss the rice with the sorrel mixture. Place half the rice mixture in a serving bowl. Top with kale and radishes. Sprinkle with lemon zest. Serve with lemon wedges. This also tastes delicious with a fermented hot sauce.
Optional accompaniments could include: hemp seeds, nuts or additional vegetables
**This gluten free rice bowl recipe was inspired by my frequent visits to
Sqirl
Restaurant here in Los Angeles. They serve a similar vegan dish called The Stella. Their recipe uses chopped up preserved lemon which would be a delicious addition to this recipe. I wanted to keep it simple.