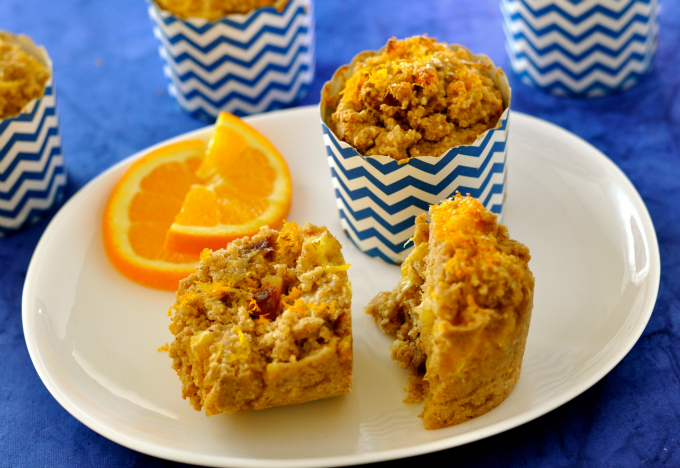 The secret to all-day energy is what you decide to eat in the morning.
I love starting my day with a healthy breakfast muffin packed with nutrients and protein like this healthy breakfast muffin made with quinoa, dates and fresh oranges.
As many of you know, oranges are renowned for their juicy and sweet concentration of vitamin C.  We know that vitamin C can protect us from colds in the winter.
One of the other main ingredients in this healthy breakfast muffin is quinoa. Quinoa is naturally gluten-free and one of the most protein-rich foods we can eat. It is a complete protein containing all nine essential amino acids. Quinoa also contains iron, fiber and magnesium.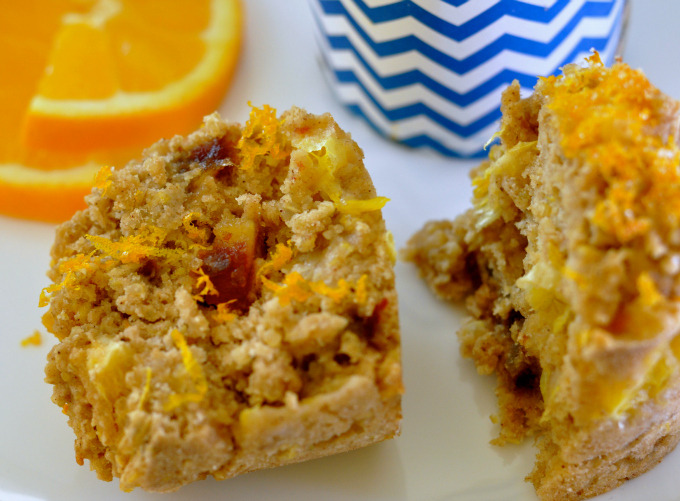 Healthy Breakfast Muffin with Quinoa, Dates & Oranges
In last week's post, we discussed reading food labels and vegan sugar. Anytime I mention vegan sugar, I always get a lot of emails.
People are often surprised to find out that most cane refineries in the United States use bone char (charcoal made from animal bones) as their activated carbon source. It is used to turn sugar white. This refined sugar is added to many food products including beer and some orange juice.
There are some certified 100% vegan cane sugars that do not use bone char in their processing. One of those companies is Zulka. Ordinary Vegan has partnered with Zulka for the month of March to bring awareness to bone char in sugar.
If you don't want to buy beer or orange juice that uses cane sugar from bone char, make sure the product is certified vegan. Certified vegan is defined as no animal or animal by-products can be contained in the food.
Zulka Pure Cane Sugars are perfect for any recipe where refined sugars are traditionally used. Made only from real fresh sugar cane, Zulka products are unrefined and are also non-GMO Project Verified. Varieties include Morena Pure Cane Sugar, Powdered Pure Cane Sugar and Brown Pure Cane Sugar.
You can find Zulka on their website, Facebook, Pinterest, Twitter and Instagram. Their products are available at major retailers nationwide.
Hope you enjoy this healthy breakfast muffin as much as I did. Don't miss any of Ordinary Vegan's free recipes by signing up here.
Hope you get a chance to listen to my podcasts on iTunes or here on my website. Please share with anyone you know who wants to learn about starting a plant-based diet.
Wishing you a peaceful and compassionate week.
Healthy Breakfast Muffin Recipe
Healthy Breakfast Muffin with Quinoa, Dates & Oranges
The oranges create a very moist muffin.
Ingredients
¾ cup old-fashion rolled oats
¾ cup cooked quinoa **See Note
1¼ cups gluten-free flour
2 teaspoons baking powder
½ teaspoon salt
⅓ cup vegan sugar
2 teaspoons ground cinnamon
1 large ripe banana
⅓ cup almond milk
⅓ cup apple juice
2 flax eggs **See Note
2 large oranges
⅔ cup finely chopped pitted dates
Topping
1 tablespoon lemon zest
1 teaspoon of sugar
Instructions
Cook the quinoa - directions below - Put in a large bowl and let cool.
Heat the oven to 350 F
Line a 12-cup muffin tip with 8-10 muffin cups depending on size. Or grease with vegetable oil and set aside.
In a food processor fitted with a metal blade, process the rolled oats into a fine flour. Add the oats, sugar, flour, baking powder, salt and cinnamon to the quinoa. Mix to combine.
Grate both oranges for zest. Combine one tablespoon of orange zest with a teaspoon of sugar and set aside.
Peel the oranges and separate the segments. Remove all the pith. Chop and place ¾ cup of the chopped orange segments into a large bowl with the chopped dates.
In the same food processor, process the banana, apple juice, oil and almond milk. Stir in the ground flax egg.
Pour the banana liquid into the bowl of oranges and dates. Mix.
Pour the banana orange batter into the dry ingredients and mix until well blended.
Pour the batter into the prepared muffins cups, filling them ⅔ full.
Top each one with a little orange zest.
Bake for 30 - 40 minutes, or until the tops are golden brown and a toothpick inserted into the center comes out clean.
Place onto a wire rack to cool.
*Note - Cooking Quinoa - Put ½ cup dry quinoa in a colander and rinse under running water. Place quinoa and 1 cup of water in a small pot and bring it to a boil. Then lower the heat and cover. Cook for 10-15 minutes or until all the water has been absorbed. Keeping a careful eye in the end so it doesn't stick.
*Note - Flax Eggs - Combine 2 tablespoons of ground flax with 5½ tablespoons water. Whisk and put into refrigerator for 10 minutes to thicken