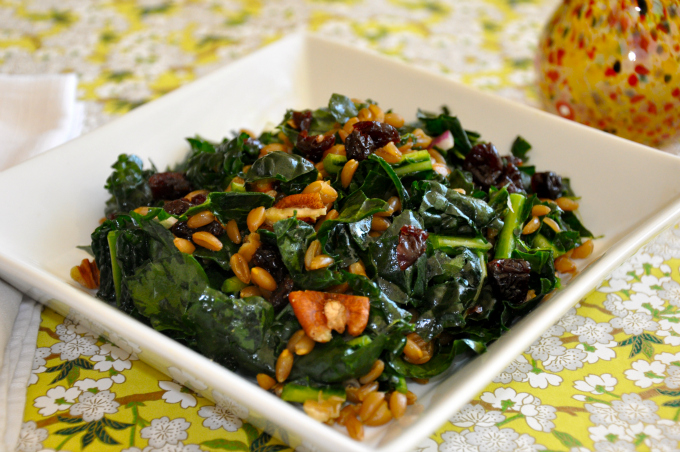 Today I would like to introduce you to my favorite grain called farro, also known as the "Mother of All Grains".
Farro is rich in fiber, magnesium and vitamins A, B, C and E. Because it is so easily digested and so low in gluten, farro can often be eaten by people who are normally gluten-intolerant.
When added to this kale salad, you have a nutrient dense meal that will keep you going all day.
Farro is an ancient grain used for thousands of years in North Africa and the Middle East, where farro kernels have actually been found in Egyptian tombs.
During the height of the Roman Empire, farro was used as a primary food and possibly even as money. When cooked, farro has a chewy, slightly nutty finish. It  has 4 grams of protein per half cup cooked.
In comparison quinoa has 4.5 grams and brown rice has 2.5 grams per half cup cooked. It is loaded with magnesium, niacin and zinc and is low-fat. Make sure you get "semi-pearled farro" or "pearled farro".
"Whole farro" takes about 40-60 minutes to prepare. The "semi-pearled" or "pearled farro"will take 15-20 minutes off your cooking time.
I always rinse the grain before cooking.  Cooking it is simple, just simmer one part whole-grain or pearled farro in about 5 parts water until it is chewy – drain any excess water or let it absorb all the water until it is cooked like rice.
Cooked farro will keep in the refrigerator for approximately five days. You can eat it warm for breakfast with maple syrup and nuts, and in soups. I love it cold in salads like this kale salad with farro, pecans & dried cherries I made today.
This super yummy power salad is easy to make and  low in saturated fat, and cholesterol.
It is also a good source of dietary fiber, thiamine, riboflavin, folate, iron, magnesium and phosphorus, and a very good source of Vitamin A, Vitamin C, Vitamin K, Vitamin B6, calcium, potassium, copper and manganese.
If that isn't enough, it also has over 5 grams of protein per serving! Enjoy and congratulations to our newbie vegans.
Hope you enjoy this kale salad with farro as much as I did.
Don't miss any of Ordinary Vegan's recipes by signing up here..
Ordinary Vegan now has a podcast on plant-based nutrition and vegan recipes. You can listen here on this website or in iTunes.
Join our health and wellness community on Facebook. There are over 315,000 strong, vibrant community members waiting to embrace you.
Thanks for stopping by and hope you have a peaceful and compassionate day.
Kale Salad with Farro, Pecans and Dried Cherries
Kale Salad with Farro, Pecans & Dried Cherries
Vegan kale sald with farro pecans and dried cherries
Ingredients
1 cup Farro
¼ cup mixed dried fruit (such as sour cherries, cranberries or raisins)
1 pound kale (about 2 bunches)
1 tablespoon olive oil
2 tablespoons minced red onion (or more to taste)
2 tablespoons chopped toasted pecans (I added extra)
2 teaspoons red wine vinegar
freshly ground pepper and salt to taste
Instructions
Toast the farro in a dry medium sauce pan over medium heat until it smells nutty and turns golden, about 5 minutes. Add 2 cups water and bring to a simmer. Season with ½ tsp of salt and cook until the farro is tender but still a little chewy.
Remove and discard the stems from the washed kale, Chop the leaves into bite sized pieces. Place in a large mixing bowl with 1 teaspoon salt and the olive oil. Grab the leaves by the handfuls and massage them roughly. After a minute or two, the coarse, stiff leaves will turn soft and silky. Add the dried fruit, along with ½ cup cooked farro, red onion, pecans and vinegar. Toss to mix well, then season to taste with black pepper, salt and vinegar if necessary. Use left over farro for salads, under stir-fries or warm with maple syrup and fruit for breakfast.