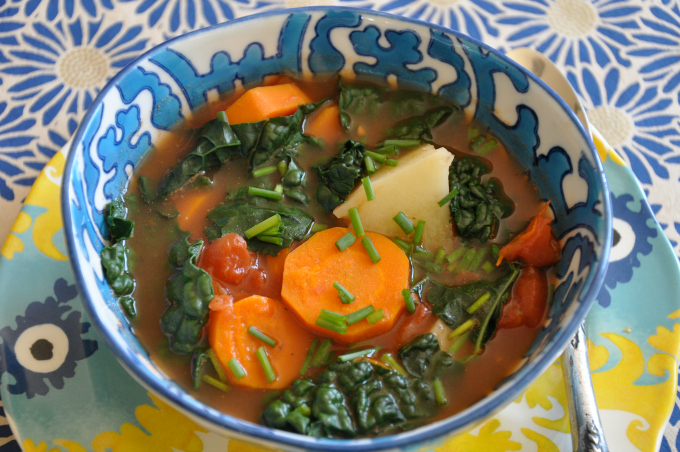 There is nothing better on a cool day than a soul warming bowl of hot soup. Once you know how to make a basic soup, the possibilities are endless. The easiest starting point is a base of chopped celery, onion and carrots. From there, you can add your favorite legumes, pasta, vegetables and herbs. If you are cooking for only one or two, freeze your soup in small bowls for easy access to a healthy, filling meal.
Today, I made a kale, carrot and cannellini bean soup.
To save time, I used cooked, packaged beans from Whole Foods, which are sold in cartons, not cans. Cannellini beans are large white beans with a firm texture and skin and a nut-like flavor.
Cannellini beans are very low in saturated fat, cholesterol and sodium, and a good source of dietary fiber, protein, folate, iron, magnesium and potassium.
I steamed our other superfood, kale,  to retain its crispiness and bright green color. Easy to do and worth the extra step. I love when my food not only tastes great, but looks beautiful too. Hope you enjoy this cannellini bean soup as much as I did. If you enjoy this soup, you will probably also love this green minestrone soup too.
Don't miss any of Ordinary Vegan's recipes by signing up here..
Ordinary Vegan now has a podcast on plant-based nutrition and vegan recipes. You can listen here on this website or in iTunes.
Join our health and wellness community on Facebook. There are over 315,000 strong, vibrant community members waiting to embrace you.
Thanks for stopping by and hope you have a peaceful and compassionate day.
Cannellini Bean Soup with Tuscan Kale & Carrots
Tuscan Kale, Carrot and Cannellini Bean Soup
Ingredients
2 bunches carrots, cut into 1-inch chunks (about 4 cups)
4 cups low-sodium vegetable broth
1 15 ounce carton diced tomatoes in juice
2 12 ounce bunches Tuscan kale, thinly sliced and veins removed
1 large potato, chopped into 2 1-inch chunks
¼ cup chopped fresh basil plus 6 whole basil leaves
2 tablespoons chopped chives plus handful of whole chives
1 15 ounce carton white beans, rinsed and drained (or fresh cooked)
1 tablespoon balsamic vinegar
Instructions
Bring carrots, broth, tomatoes and 2 cups water to a simmer in a a large stockpot with steamer insert over medium heat.
Place kale, whole basil leaves and whole chives in steamer insert.
Place steamer inside stockpot, cover and steam 5 to 7 minutes while broth is simmering.
Remove and discard basil and chives.
Add kale, beans, and vinegar to soup, and return to a simmer until carrots and potatoes are cooked. Soft firm but not mushy. This should only take another minute or two
Season with salt and pepper.
Stir in chopped basil and chives just before serving.