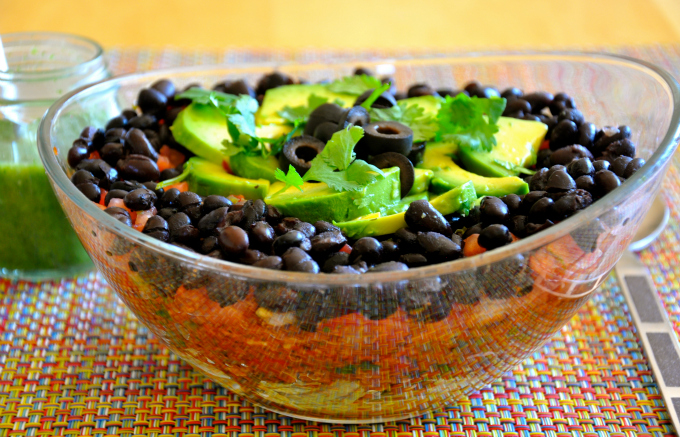 I've never met a vegan who didn't love themselves. When I say that I don't mean conceited, narcissistic love, I mean self-love.
Six months ago a dear friend of mind stopped eating meat and dairy.
It really took me by surprise because I have never known her to take care of herself. She is overweight, depressed and riddled with food related diseases like type-2 diabetes and high blood pressure. She is a kind woman but never showed kindness to herself…until now.
So what happened?
According to her, she was sick of being sick. She said she had nothing to lose. She said she did it in defeat.
Interesting words.
She called me immediately to announce her plans. I told her to take it one day at a time so she didn't feel overwhelmed. It was very exciting to watch a good friend suddenly change her life.
I could tell she was struggling in the beginning, but somehow she got through those days. Of course, she quickly lost weight which helped but what really changed was her attitude about herself. As time passed, she became kinder and more understanding about her life.  She stopped being self-critical about her pain and failures.
That self-kindness is now growing into mindfulness.
She now knows that she is not alone and she shares her struggles with all of humanity. She will kill me for saying this, but she even started recycling.
That may sound funny but when we care for ourselves, we naturally care for others including the environment and animals.
I always say that becoming vegan can change your life. Like a baby chick breaking through an egg, life cracks open. My dear friend's heart and soul have no limits now. I can't wait to see what she does next.
Now on to food.
I was invited to a neighborhood pot-luck get together. I don't know my neighbors very well, so they have no idea I am vegan.
I wanted to make something that was familiar and fun and this layered taco salad sprang to mind. Many years ago I used to make this taco salad for all family events including bridal showers, baby showers and summer parties. There were never any left-overs.
Today I made it with Beyond Meat's Beef Free Crumbles and brought it to the neighborhood potluck with a bowl of tortilla chips. I chose Beyond Meat's Crumbles because I have met their team and they really care about what they do, and their crumbles taste great.
I am happy to say I came  home with an empty bowl of taco salad and no one knew it was vegan.
Hope you enjoy this healthy, taco salad recipe as much as my neighbors did. Wishing you a peaceful week filled with self-compassion.
Layered Taco Salad with Cilantro Dressing
Beyond Meat Layered Taco Salad
I chose Beyond Meat for my beef-free crumbles because I like the taste.
Ingredients
Vegan Beef Free Filling
2 tablespooons vegetable broth (or more)
1 half medium onion, chopped (approximately ¾ cup)
1 red fresno chili, chopped
2 cloves garlic, chopped
½ tablespoon chili powder
½ teaspoon ground cumin
¼ teaspoon salt
¼ teaspoon ground black pepper
1 8-ounce ounce can tomato sauce
1 8-ounce package of Beyond Meat beefy beef-free crumbles
Handful of fresh chopped cilantro
1 tablespoon maple syrup
Dressing
¼ cup lime juice
½ cup chopped fresh cilantro
1 teaspoon maple syrup
1 tablespoon chili powder
¼ teaspoon ground cumin
½ teaspoon salt
¼ teaspoon black pepper
2 tablespoons extra virgin olive oil (if you are oil free add 2 tbsp water)
For Salad
1 firm-ripe avocado
2 teaspoons of fresh lemon juice
1 head iceberg, lettuce, thinly sliced
2 large tomatoes, chopped (or salsa)
1 15-ounce can black beans, drained and rinsed
1 6-ounce can sliced black olives, drained
Tortilla Chips
Instructions
Dressing
Whisk together all the dressing ingredients or put into a food proccessor until emulsified.
Vegan Beef Free Filling
In a large skillet over medium heat, add the vegetable broth until hot. Cook onion, garlic, chiles, chili powder, salt, pepper and cumin until onion is soft, about 5-7 minutes. Add small amounts of vegetable broth if onion mixture is sticking instead of oil.
Add tomato sauce and cook for another few minutes until slightly thickend. Add vegan beef-free crumbles and maple syrup and cook for another 3-5 minutes. Add chopped cilantro and remove from heat. Taste and check for additional seasonings.
Assemble Salad
Peel and pit avocado, and cut into slices. Toss with lemon juice.
Spread lettuce over bottom of a medium bowl. Spoon beef-free mixture evenly over lettuce and continue maying layers with tomatoes, beans and olives.
Drizzle dressing over salad making sure not to overdress.
Top with sliced avocado and fresh chopped cilantro.
Serve with tortilla chips